27 August 2019
How Can You Save More Than You Spend on Solar?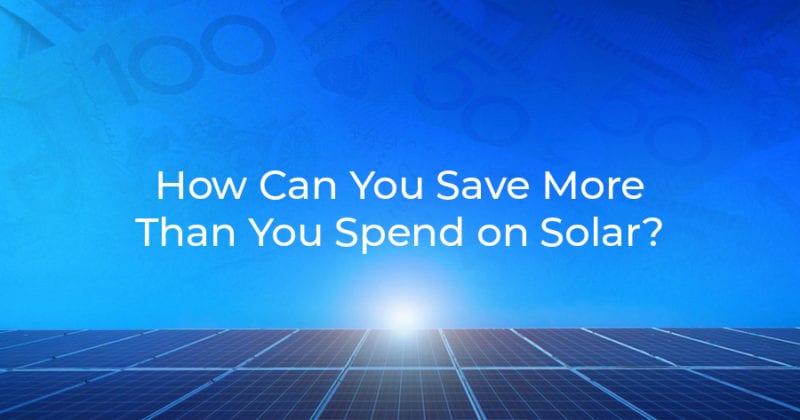 With electricity prices at an all time high, finding solutions to reduce energy bills is at the top of the list for many homeowners and businesses looking to save money. It's no secret that solar power is one of the most effective ways you can reduce your power bill. In 2019, more than 15% of Australia's energy comes from solar PV systems.
If you haven't already installed solar, now's the time. Below we provide an example of how you can cover the cost of your system simply with the savings your solar system will generate, as well as end up with additional savings on top.
This example is based off a home with a 6.6kW system with pre-solar bills of around $450-$500 per cycle. The customer has purchased their system using our low-rate finance option through RateSetter.
The customer's weekly repayments for their system are $22. Since having solar installed, they have saved $33 per week off their electricity bill (which works out to $264 per bill based off a 2-month cycle, when averaged out over a 12-month period). Therefore, the savings in electricity they have received since having their system installed are more than covering the cost of the weekly repayments.
Further to this, the difference per week between their repayments and savings is a positive $11, which works out to be $572 a year extra on top of what they're saving in electricity bills from their system.
Repayments of the system: $22 per week / $1144 per year
Savings on electricity bills: $33 per week / $1716 per year
Difference in repayments and total savings that you pocket: $572 per year
Once this customer has paid off their system, which could be within 5 years, they pocket the full $33 as savings, that's $1716 a year!
If you would like to discuss how much you could save with a low-interest finance rate through RateSetter, please contact us today.
Please note, the above example is an illustration only. Exact savings will vary depending on several factors including system size, finance terms, pre-solar bills and the amount of solar you self-consume. We can help you understand how much you could save with solar when you contact us for a quote.

back to blog