13 February 2020
How Community Battery Projects Help Us Take a Step Towards a Greener Future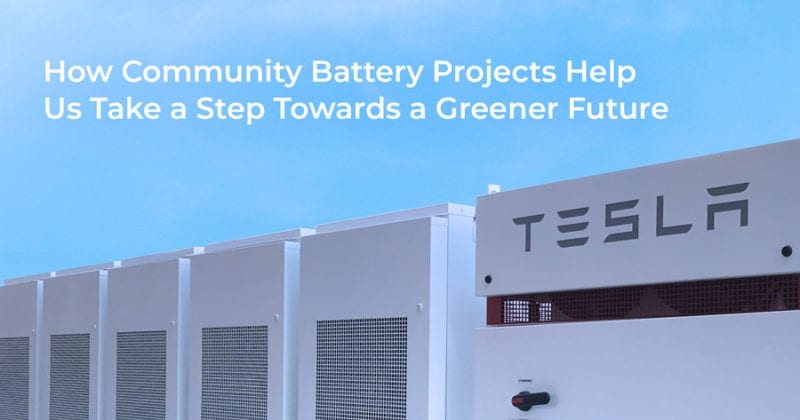 There has been big news in the solar energy sector this week with the announcement of a group of new community battery projects which works to incorporate battery storage into the existing energy grid.
The announcement of this new project has great implications for the future of solar energy in Western Australia, but firstly let's take a step back and discover exactly how these projects will work.
Community battery projects involve the installation of a battery into the energy grid which can then be connected to a select number of homes in a respective area.
The participating solar households can then "virtually" store excess energy generated from their solar panels and then utilise that stored energy during the afternoon and evening peak when their systems are no longer generating electricity. These schemes allow residents to take advantage of community battery storage, without having to pay any up-front costs as the battery is owned and maintained by an external provider.
Another benefit of this system is that community battery projects can help to support the region's power supply during times of peak demand to meet any sudden peaks or unpredictable changes in supply needs.
The exciting thing about these recently announced projects is that they are a small step towards the introduction of Virtual Power Plants (or VPPs) into Western Australia's energy landscape.
At its core, a VPP is basically a network of individual solar PV and battery systems that deliver excess solar energy back to the grid to disperse to the wider community. The power in a VPP comes from a range of connected units, usually through solar panels and batteries connected to homes and commercial buildings.
Each of these power-generating units can work on their own or share power through the VPP to support the grid when demand is high. This means that instead of drawing from the grid for power, customers could instead be paid for the VPP to draw power from their battery when more energy is needed in the grid. This is the main difference between community battery projects and VPPs, as VPP participants can essentially sell or trade their excess energy created by their solar panels back to the grid for a profit.
A benefit of VPPs is that they can make managing the grid less complex by providing better peak demand management and frequency control services. This is because they allow for real-time, cumulated control of available energy resources on the grid to meet any sudden peaks or unpredictable changes in supply needs, preventing issues like power outages caused by sudden energy demand spikes.
The main benefit for those that are involved in the VPP, of course, is that they can save money on their electricity bill because they can use electricity from their battery rather than from the grid, and that they also can be paid for the power their system generates when grid demand is high.
Unfortunately, there are no current viable VPPs in Western Australia, because WA's residential electricity market is not deregulated (unlike the east coast).We have previously  discussed the increase in VPP scams that have recently started surfacing, so you still need to be wary of companies that are promoting these as a viable energy alternative. The good news, though, is that the community battery projects that are currently being trialled are a great step forward from the state government in acceptance of solar as a viable power source, and we look forward to seeing what other solar projects will stem from these.
If you would like a quote for your home or business, please contact us today. 

back to blog