04 November 2019
Josh Kennedy Installs Solar With Infinite Energy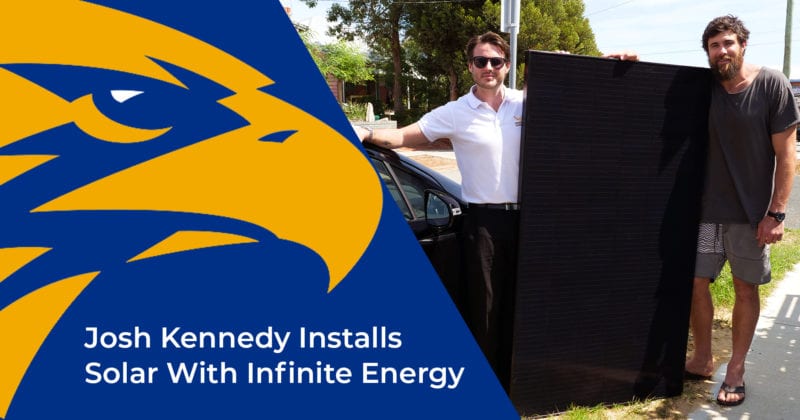 West Coast Eagles player and premiership winner, Josh Kennedy, recently had a 6.4kW solar PV system installed at his home with Infinite Energy.
Just like any young family, Josh noticed his electricity bills beginning to rise and needed to find an alternative to better managing his family's energy needs. Knowing about the several environmental and financial benefits of solar power, Josh decided to investigate his options for investing in a residential solar system.
In addition to Infinite Energy being an Official Sponsor of the West Coast Eagles and recently completing the solar installation for WCE new Lathlain training facility, Josh selected us due to our reputable service and outstanding product line-up.
The system consists of 20 x premium SunPower P-Series panels coupled with a Fronius inverter and smart meter. The system is expected to produce 10,800 kWh of clean energy every year, eliminating 8 tonnes of CO2 from being emitted, the equivalent of planting 30 trees.
Josh was extremely pleased with the process and quality of service from Infinite Energy, "It's been an amazing experience. It's been smooth and hassle-free, and they've had a really professional approach answering all my questions and being non-pushy in the way they've gone about it".
System details:
Location: Fremantle, WA
Install date: September 2019
System size: 6.4kW
Panels: 20 x SunPower P-Series 320W
Inverter: 1 x Fronius inverter & Fronius Smart Meter
Expected Production: 10, 800kWh
Annual CO2 Abatement: 8 tonnes
CO2 Equivalent Reduction: 30 trees a year
Infinite Energy were delighted to have had the opportunity to help Josh find a solar solution for his energy needs.
If you're looking for a winning team for your solar installation, contact us today!

back to blog