24 October 2018
SunPower P-Series Residential Panels; Exclusive to Infinite Energy in Western Australia.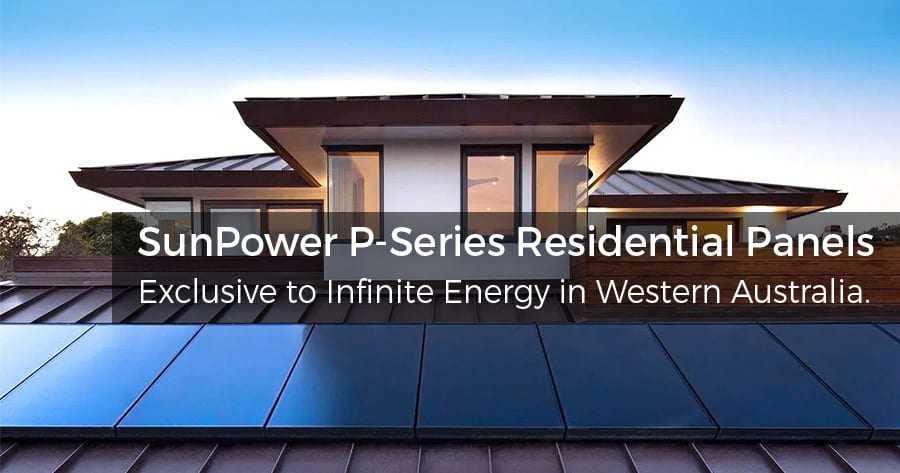 SunPower is a leading global solar manufacturer, providing the highest performing solar power systems available. They are renowned for their high quality, durability and effective design, making them among the most efficient panels in the market.
Founded in 1985, SunPower is an American company and is one of the longest running solar power companies. Its headquarters are based in California, with manufacturing sites spanning across the globe.
SunPower's newest product addition is their Performance Series panels (P-Series), uniquely designed to deliver superior power, reliability, value and savings, making them a cost-effective solution for households.
Named as a 2018 Top Performer in all DNV/GL reliability tests, SunPower P-Series Residential panels are an exciting addition to our product line-up.
Higher Efficiency and Reliability
The SunPower P-Series 320W boast an impressive efficiency rating of 19% with a +16 Watt power tolerance (most other solar panels only have a +5 Watt power tolerance).
The new panels have a robust and flexible 'hypercell' design, containing overlapping silicon cell strips and a conductive adhesive proven in the aerospace industry. This provides multiple and redundant paths for electricity flow.

In comparison, most other panels contain either 60 or 72 individual cells that rely on fragile metal ribbons and solder bonds that block sunlight and are susceptible to corrosion and breakage.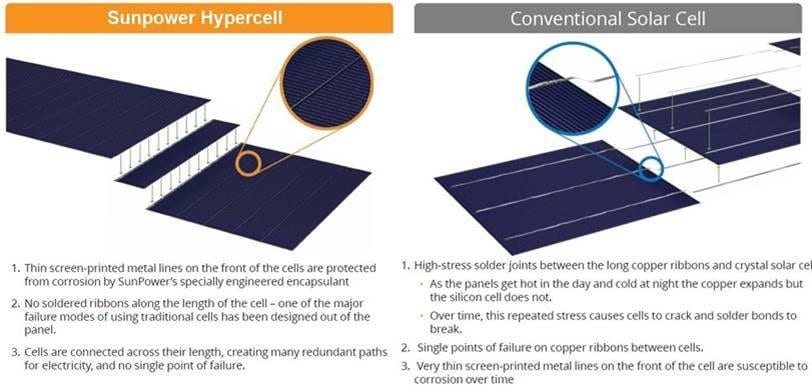 About Sunpower Performance Series Panels Australia
Performance Panels
Improved Performance in Shading
The P-Series design minimises losses when in partial shade, thanks to their parallel circuitry, any shading experienced by the panel is only limited to the shaded area, rather than larger sections like most other panels.

Even a small amount of shade can reduce the output of a typical panel by 33%, whereas SunPower's panels, including their P-Series, is closer to just 11%.
Industry Leading Warranty
SunPower offers a 25-year product warranty, making it the longest standing warranty in the market. Because SunPower panels are built to function efficiently for decades, the company guarantees their Complete Confidence Warranty on all panels and defective parts. As expected, the new P-Series Residential panels come with this industry leading warranty.
Proven Performance in Commercial Applications
Since 2016, Infinite Energy has installed an impressive 4MW (4,000kW) worth of SunPower's Performance Series panels Australia-wide, with an additional 3MW due for installation soon.
Noteworthy installations using SunPower P-Series panels have included an expansion of 200kW for AWTA, 290kW installed at Aqua Jetty in Rockingham and 76kW at Lake Karrinyup Country Club.
The SunPower P-Series Residential panels provide the best of both worlds by coupling the unprecedented reliability and efficiency of the SunPower brand with an affordable price point, making them an ideal choice for your home solar installation.
For more information on the SunPower P-Series panels, call us on 1300 074 669 or request a no obligation consult.

back to blog