02 May 2019
Labor's $1 Billion School Solar & Battery Loan Program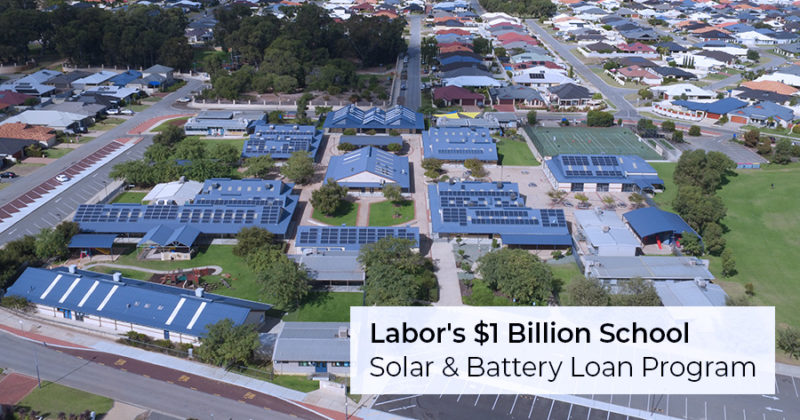 The Australian Labor Party recently announced plans for a $1 billion solar and battery loan program to assist schools in cutting their electricity bills and accessing cleaner energy.
The proposed program will be established by the Clean Energy Finance Corporation and is expected to benefit up to 4,000 schools across Australia by providing access to concessional loans and supporting the creation of Virtual Power Plants (VPPs) which virtually links solar and battery systems to deliver energy on site and other services to the electricity system.
According to Labor's Solar Schools program, financing will be provided through concessional loans that can be used to purchase solar and/or battery systems, either by schools or VPP project developers. Schools with existing solar panels and batteries will also be able to access the program to upgrade to a newer or larger system. 
In a media release from the Clean Energy Council, Chief Executive Kane Thornton said solar with on-site battery storage is a practical solution that can help schools make the most of the sun's energy during term, as well as being of immense benefit to the power system over the summer break. 

"The $1 billion loan program announced by the ALP today would lead to a big increase in energy storage across the country, helping to improve the reliability of the energy system. These systems are also a fantastic educational resource to give students a first-hand glimpse at Australia's move to renewable energy," Mr Thornton said.
Estimated savings for schools will vary based on the size of the system but could potentially save small and large schools thousands in electricity bills each year. The program could also provide a revenue stream from selling excess power back to the grid through VPPs.
Based on Clean Energy Council analysis, the estimated savings figures can be seen in the table below.
| | | |
| --- | --- | --- |
| $/p.a. | Reduction in energy bills for Large Schools | Reduction in energy bills for Small Schools |
| Victoria | $94,000 | $7,000 |
| New South Wales | $89,000 | $15,000 |
| Queensland | $120,000 | $9,000 |
| South Australia | $90,000 | $15,000 |
Schools make an excellent contender for solar and the creation of VPPs because they tend to use energy when demand is low and are vacant for long periods of time during the holidays, such as summer when demand is often higher. The distributed system would deliver excess energy back to the grid through VPPs, helping to reduce electricity prices for households and businesses as well. Using smart technology, the interlinked systems will improve the reliability of the network and increase market competition.
Infinite Energy has helped hundreds of schools across Australia in accessing cleaner, cheaper energy through the installation of a solar PV system.
These include a 512kW system we installed for Scotch College in 2018/2019, expected to save the school $4 million in reduced energy costs over the life of the assets, and a 100kW system for Carey Baptist College that produces 162,070kWh of clean energy every year and saves the school $29,000 a year on electricity bills.
More of our recent school installations can be viewed here.
If you'd like more information on installing solar or battery storage for your school, contact us here.

back to blog