10 December 2018
Macro and Micro Benefits of Commercial Solar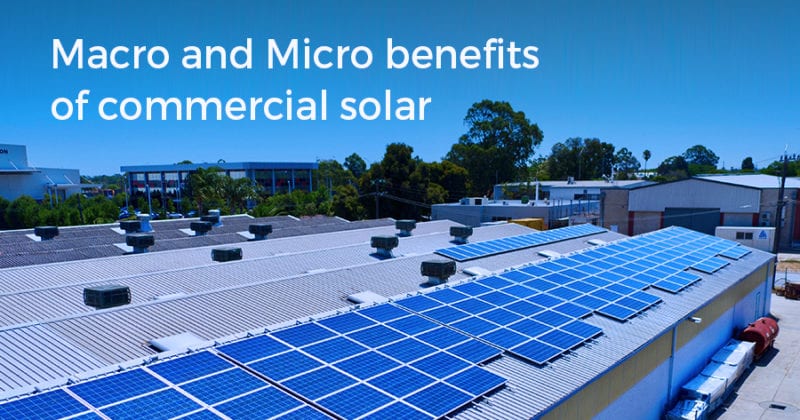 Many businesses are looking for alternative ways to manage their energy consumption and expenses. Installing a commercial solar PV system for your business can lead to multiple benefits not only in costs savings but financial stability, meeting renewable energy targets and your corporate environmental image.
Below, we discuss the many micro and macro benefits to installing solar power for your business.
Micro Benefits
Reduced Electricity Bills
Solar PV systems only produce energy during the day when the sun is shining, which coincides with the time most businesses are consuming the greatest amount electricity. Unlike households, which can tend to use a lot of their energy later at night, your business will be directly using the energy it's producing and therefore save you significantly on your electricity bills.
If day-time usage is the norm for your business, the feasibility of your investment will greatly increase.
Financial Stability and Cost Control
Commercial solar power can help insulate your business from volatility in the power markets. Not only are there unpredictable price rises but also seasonal swings in utility rates (due to high consumption, i.e. summer and winter months) which can make it difficult for a business to effectively manage the costs associated with their electricity.
As the sun is 100% renewable, your system will be generating power right when you need it, minimising your need to draw from the grid and allowing for more control and stability over your energy costs.
Low Maintenance and High Reliability
Solar energy systems from reputable solar providers require virtually no maintenance and are designed to deliver optimum performance throughout its lifetime. Given the roof structure of many commercial buildings, the access to them is easy. While individual solar cells are fragile, they are encased in a highly tempered and protective glass case, which is framed by non-corrosive aluminium making them extremely durable. Because solar panels are exposed to the elements, they are typically built to withstand rain, hail and other weather-related threats.
If your panel does get damaged, most reputable solar panel brands will offer warranties for 12 - 25 years to cover this.
Government and Tax Incentives
Federal and state governments have put in place financial incentives to help make the outright purchase of a commercial solar power system much easier for businesses. Depending on the size of your project, the government will supply you with STC's or LGC's.
Small-Scale Technology Certificates (STCs) for renewable energy installations under 100kW in size are based on how much electricity the system will generate until 2031, with one STC equalling one megawatt-hour of electricity. However, it's important to note that STC's will be reduced each year until 2031 where they are completely phased out.
After a large-scale renewable energy system has undergone an accreditation process, you're able to generate Large-Scale Generation Certificates (LGCs).
One LGC is created for every megawatt-hour of electricity your system generates. Like STCs, LGCs can be purchased, sold, and traded on an open market and their value fluctuates according to supply and demand.
The key difference between STCs and LGCs is that LGCs are produced on an on-going basis, as opposed to STCs which are created upfront.
Solar feed-in tariffs are also provided, which act as a payment for any excess electricity your system generates that you don't use.
Corporate Green Image
There is a strong need for corporate responsibility from businesses, with many customers holding this as an important value when making decisions about which companies they deal with. By installing a commercial solar system, you are making a strong visual statement that highlights your willingness to contribute to environmental sustainability and reduce your carbon footprint.
Macro Benefits
Aid in meeting renewable energy targets
Australia is trying to source 33,000 Gigawatts of power (roughly 20%) from renewable energy sources by 2020. By installing a commercial solar PV system for your business, you will be attributing towards meeting this target.
In January 2018, the Clean Energy Regulator announced that it expected the LRET to be met before the 2020 deadline due to strong investment in renewable energy. This is a noteworthy achievement considering that just over half of the target had been met at the beginning of 2017.
Add to the stability of Australia's power supply
The contribution of clean energy power generated from solar can reduce the demand on the network during the day. Reducing demand on the network during peak times can reduce the likelihood of brownouts.
Decreased demand on the grid means lower costs of energy during peak periods. Thus, solar has the potential to bring the price of peak energy rates down for ratepayers across the state. 
Boost the Australian Job Market
The solar industry creates more than 10,000 jobs in Australia and is set to employ many more Australians as the demand for solar increases.
Just recently, German battery manufacturer sonnen opened a manufacturing facility at the former Holden factory. It's estimated more than 400 local jobs will be created to assemble and manufacture energy storage systems that are being subsidised under the State Government's Home Battery Scheme in South Australia.
If you're considering installing solar for your business, get in touch with one of our Commercial Energy consultants. They'll be able to discuss your finance options and help you to find a suitable system for your business. Alternatively, if you'd like more information on your finance options, read our blog to learn more.

back to blog