02 March 2021
Maximise Your Solar Savings With The mySolarEdge App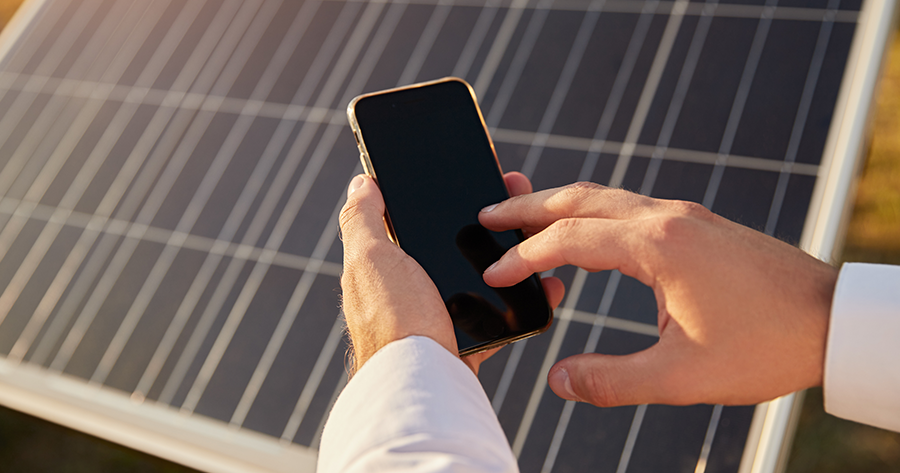 When trying to boost your solar self-consumption, the key point to remember is to use the majority of your electricity during the day when the sun is shining and solar energy is being produced by your solar power system. However, this doesn't mean you should suddenly switch on your dishwasher, washing machine and pool pump all at once, as this can often increase consumption above what your solar power system is producing, meaning that you will have to draw energy from the gird – exactly what you want to avoid!

Being mindful of how much solar energy your solar power system is producing is important to help you make the most of it. Online monitoring is a fantastic tool for this and becomes very useful when tracking when best times of day for using your appliances.
Online Monitoring Apps
Many solar inverters come with Wi-Fi connected monitoring, enabling you to see the performance of your solar power system and obtain production data. For example, SolarEdge customers can access this monitoring through the mySolarEdge app.
Apps such as mySolarEdge provide solar power system owners with information on how much solar energy their system is producing currently, daily, as well as the total production of solar power to date.
To gain a full picture of your solar power system's performance, you can purchase an additional smart meter that enables you to see how much of that renewable energy you are consuming in your home. When you are aware of how much energy you are consuming, you can adjust your consumption which will help to save you more money.
SolarEdge also offers smart energy products, allowing you to control your appliances via the mySolarEdge app. If you've left the house and accidentally left a light or appliance on, you can simply switch them off via your phone.
How to boost your self-consumption with the mySolarEdge app
Below is an example guide of how you could run your appliances throughout the day to maximise your solar power self-consumption using the mySolarEdge app. This example is based on a 6.6 kw solar system during summer and applicable to someone who is not home during the hours of 8.30am-5.30pm.
7:30 a.m Run dishwasher to clean the previous night's dishes.
8:30 a.m Leave house.
9:15 a.m Receive an alert from your mySolarEdge app informing you that you've left your bedroom light on. Switch it off through the app.
10:00 a.m Switch your pool pump on through the mySolarEdge app, and let it run from 10am-3pm.
3:15 p.m After having already put your load of laundry in the washing machine the previous night, switch your washing machine on through the mySolarEdge app and run for a 45-minute cycle.
4:00 p.m Switch your aircon on via the mySolarEdge app to your pre-set desired temperature of 24 degrees.
5:30 p.m When you arrive home, the house is cool, the dishwasher is ready to be unpacked and your washing is ready to be hung out.
6:00 p.m Switch off your aircon and the house remains cool for the rest of the evening.
For a printable version to keep handy, click here. 
Stay Connected Wherever You Go
Another benefit of the mySolarEdge app is that it is now available on Apple Watch! This means that you don't even need to have your phone with you in order to monitor your solar power production and consumption.

To celebrate the mySolarEdge app now being available on Apple Watch, we are running a competition! Simply purchase a SolarEdge system from Infinite Energy until the end of March 2021 to go in the draw to win 1 of 3 Apple Watches, so you can track your solar power wherever you go. Click here to learn more and to enquire.
If you're interested in installing a SolarEdge system for your home, have an obligation-free chat to one of our Energy Consultants today by calling 1300 074 669 or click here to arrange a call-back.

back to blog