30 September 2019
Performance Warranty v Product Warranty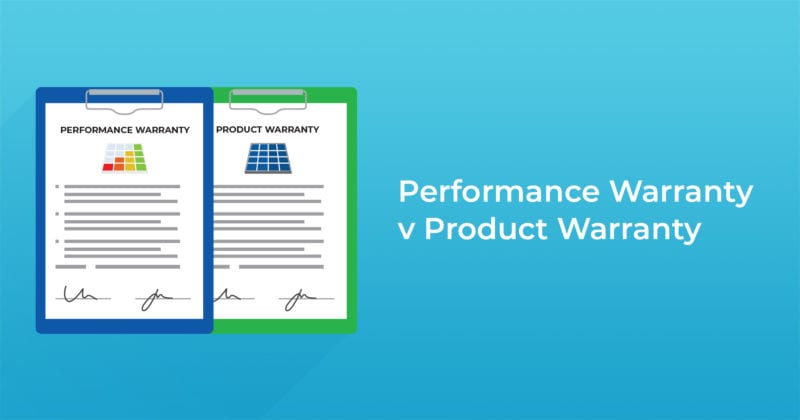 Warranties are a manufacturer's way of protecting their customers by ensuring them that they have invested in a non-faulty and quality-performing product that will serve them in the long-run. These also guarantee customers that the manufacturer will be responsible if they have purchased a defective product.
As with any appliance or equipment you purchase as a long-term investment, solar panels also come with their own warranty. The functions of a solar panel warranty are to provide quality assurance and a range of services and support for consumers when they encounter problems. A solar panel generally comes with two types of warranty– the performance warranty and the product warranty.


Performance Warranty
Overtime, solar panels will degrade and may generate less energy than when they were first installed, albeit in varying levels. The performance warranty (sometimes called "power" warranty) in solar panels gives consumers an assurance that their panels will perform to a certain level of efficiency for a specific time frame.
Generally, performance warranties state that solar panels will generate 80-90% of their power capacity for a period of years. Industry standard for performance warranties is 25 years.
The performance warranty also provides consumers with information about the manufacturer's support and services in case the consumer encounters a problem with their solar power system.


Product Warranty
The product warranty on the other hand, is based on a panel's workmanship such as the materials, and the guarantee of their quality. It is safe to say that the product warranty is considered the most important warranty of the solar panel, as this is more straightforward and helps customers pinpoint the specific defects and damages on the solar panel itself and whether it's working or not. The product warranty is technically taken on by the solar retailer under Australian Consumer Law. However its important to note that if your retailer goes out of business, you will need to claim your warranty through your manufacturer, and this can be extremely difficult if they don't have any presence in Australia. 
For most panels, the product warranty covers a shorter period of time than the performance warranty. The minimum industry standard you should be looking for on a product warranty on solar panels is 10 years, although the longer the better.
Leading solar panel manufacturer SunPower is highly regarded in the industry for offering the longest and most extensive product warranty of 25 years. This highlights the company's confidence in their products and longevity as a company, and the fact that they have on average only 27 returns per million panels sold is a testament to the quality of their panels.


The Importance of Solar Panel Warranties
A good quality solar panel will reduce your risk of any issues occurring; however, it is unrealistic to expect that a defect could never happen (particularly if you purchase a cheap solar system). This is where the importance of your warranties come in. Warranties ensure that manufacturers will provide you with the assistance and customer support in the case of a faulty product.


The Importance of Australian Presence
However, it's a common consumer misunderstanding that the length of the product warranty is all you should pay attention to. Ensuring that your solar provider and selected brand of panels have a representation in Australia is extremely important, because if they don't have a presence in Australia, claiming your warranty when something goes wrong suddenly becomes very difficult. Effectively, this means you have no warranty if the importer (or your solar provider) is not around.
It's important to compare warranty coverages from solar panel manufacturers to ensure you're getting the best deal and aren't going to be caught out later by a dodgy warranty or cheap manufacturer.
A solar PV system is a huge investment for your home and should be designed to provide you with several benefits for years to come.
If you'd like to discuss solar for your home or business, contact us today for a free, no obligation quote.

back to blog