16 December 2019
Solar Provider Quotes Can Vary Greatly, Here's Why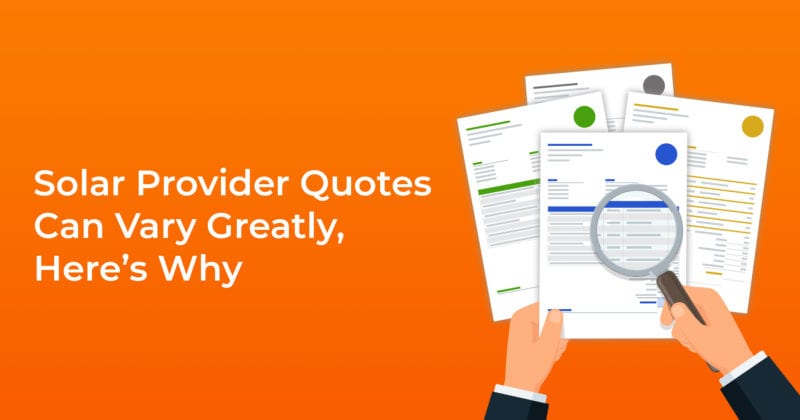 One of the best things to do when you're looking to purchase your own solar system is to ask for a sales quote from various providers, rather than just the one company. This way, you'll get a better understanding of what you get for your money and if you're receiving a fair price.
Of course, with the demand for solar peaking, cheaper options are also becoming more prevalent. As much as we want to save money and stick to a budget, paying a lower price can compromise the quality of the product. Understanding why quotes differ will help you make the most informed choice when installing solar. Having a solar system is a long-term investment, so doing some research to ensure you receive a quality product is worth your while.
You probably have some providers in mind that you would like to get a quote from, and each of these may offer you various quotes ranging in price. Often the lower prices are tempting, and surely, they all do the same job?
Which brings us the question; is there really a big difference between higher-priced and lower-priced systems?
The answer is yes, there is a huge difference.


Cheap Panels & Inverters
When you choose the lower-price option, you save money on your purchase, but you also run the risk of issues arising that come with cheap, low-quality products. The solar panels and inverter are the two main components of a solar PV system. These are extremely important, and their level of quality will greatly impact the performance and longevity of your system.
It's always a good idea to do your own research into the components you've been quoted for. Each brand of panels and inverter have a specified technological design, efficiency, durability and warranty. Take these factors into account when comparing the panels and inverter you've been offered. If you are still unsure about the products, choosing a well-known, large manufacturer can give you peace of mind knowing they've been in operation for a number of years and have successfully installed hundreds, if not thousands of their products.
If you've received a quote that seems to be a lot cheaper compared to the others, we strongly recommend you look further into their products. Companies who opt for cheap versions of these parts can reduce the lifetime of the system and cause more need for repair, which ultimately affects you as a customer.
In some cases, installers resort to a 'bait and switch' scheme, where they talk you into purchasing a supposedly high-quality panel for a low price but will install cheaper substitutes instead. This is where ensuring you read your quote's T&Cs in-depth becomes very important. Some companies have also been known to sell old stock for cheap prices, and customers are unaware that the warranties have already started. Keep an eye out for panels under 300W, as this is generally considered to be below industry standards now, and therefore is most likely old stock.
You should be skeptical of any companies who have limited information about their company and products.


Other system components
More goes into your solar PV system than just your panels and inverter, there are several components that make up a system. These components include the Balance of System (BOS) components, such as your racking/mounting, cables, connectors, electrical panels and wiring. Each of the components that make up your solar PV system have the opportunity to either hinder or thrive in your system. When a solar provider decides to cut costs on these parts, they put you as the consumer at risk. Cheap systems lead to increased risk of faults, as well as reduced system performance, which in turn means less savings for you. 
Many people don't think too much about their BOS, so companies know they can get away with using cheaper parts here and customers won't know. Unlike researching panels and inverters, it can be difficult to know whether a company is cutting costs on their BOS components. You can ask for a list of the products used for your BOS, and then do your own research from there. However, for many people this is too time consuming and too much of a hassle.
So how do you know if the quality is being compromised? Simply by comparing prices amongst your various quotes, if there is one (or a few) that seem to be significantly cheaper, you can often ensure the company have found some way to reduce their costs in this department.


Poor installation quality
Another possible reason why they have lower prices would be compromised workmanship. Some companies hire inexperienced electricians, so they don't have to pay them as much. The installers will get the job done, but at the risk of poor-quality or even unlicensed installations which could lead to faulty solar systems that can put your safety at risk as well as inhibit the performance of your system. It's not uncommon for companies who cut costs on their system components to also cut costs on their quality of workmanship and installations.  


Whole of System Warranties
Warranties are in place to cover any faults or defects in your system. You will always receive a product warranty for your panels and inverter. However, according to the Clean Energy Council, all Accredited Solar Retailers must also offer a 5-year Whole of System (WOS) Warranty (on top of the warranties in place for your panel and inverter), which ensures the company will cover any defects or faults related to parts and labour on any component in your system. If something were to go wrong with your racking, for example, and you aren't covered by a WOS Warranty, your solar provider won't cover these costs to repair or replace the faulty racking, and you'd have to front the costs. The whole of system warranties cover the costs of labour, setup and installation.
Providers who don't offer a WOS Warranty can provide cheaper quotes as they don't have to cover these warranties.
WOS warranties are an extremely valuable asset to have, so it's worth taking that into consideration when comparing quotes. All Infinite Energy quotes include a 5-year Whole of System Warranty.


After-Sales Service
Some companies offer very limited after-sales service. They can save on costs of a system by restricting the amount of after-sales service they provide, through low staff numbers and limited training for service issues resulting in poor management.
Companies with higher quotes tend to also be the ones who put the necessary time and resources into their after-sales service offering. When things go wrong with your system, it pays to have a knowledgeable and experienced team working to fix the issue. You can get a better understanding of how companies resolve their customer service issues by reading reviews online from previous customers. You can also ask the solar company how they resolve after-sale service issues, and in what time frame. Generally, 3 business days is acceptable.
Unfortunately, there are still companies who continue to use cheap components and cut costs wherever possible, despite the many known risks of doing this. Don't put yourself at risk by purchasing a cheaper system. For any advice or a free, no obligation quote from us, contact us today.

back to blog