20 October 2017
STCs Scrapped for Replacement Solar Panels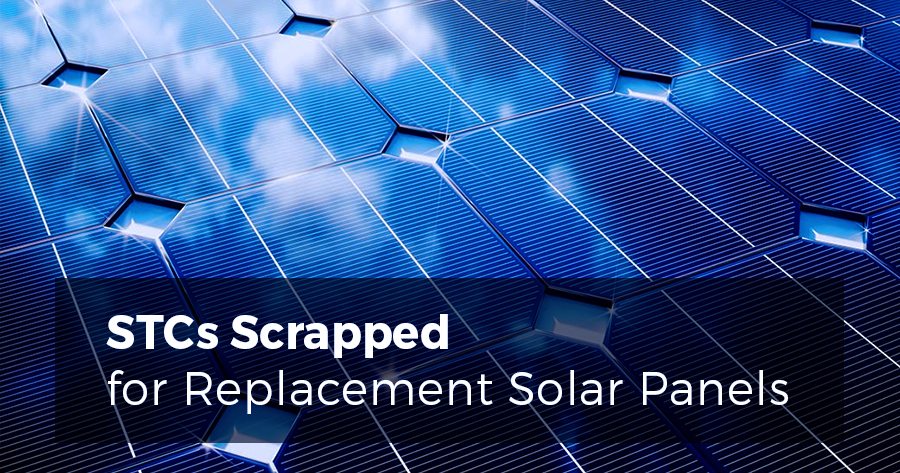 The Australian Government's Clean Energy Regulator has announced they will no longer be issuing STCs for replacement panels installed on existing systems.
This is a notable change to current regulations, as it affects panels under warranty, and even panels who are approved for STCs will no longer be eligible.
The Clean Energy Regulator has decided to introduce the changes to combat dishonest solar providers who are taking advantage of the existing rules.
What are STCs?


Small-Scale Technology Certificates or STCs are government rebates designed to encourage homeowners and businesses to invest in renewable technologies like solar and wind power. When purchasing a renewable energy system, you'll generate 1 STC for every Megawatt-hour of energy your system is expected to produce until 2031.
Once your STCs have been authorised, they act as a form of currency that can be sold to recover a portion of the cost of purchasing the system.
Due to the complexities around creating and selling STCs, it's common practice to allocate the STCs to your system provider in exchange for a discount on the purchase price.
Reason for the Changes


Currently, if one or more solar panels in a system requires replacing, STCs can be claimed on the replacement modules.
While great in theory, some solar providers have taken advantage, choosing to install low-quality modules to improve their profit margins, as systems of the same capacity, regardless of cost and quality, receive the same amount of STCs.
The guarantee of receiving STCs for both the original and replacement panels means the financial hit for the solar provider wouldn't be as hard if some of the panels start failing during their warranty period. In some cases, dodgy solar providers used extremely cheap panels in order to make a profit on the "free" replacement panels, as they would still receive STCs.
Unfortunately, there were even reports of solar providers persuading homeowners to replace their perfectly functioning, high-quality panels with low cost modules so the company could claim the STCs on the cheap replacement panels.
Changing Guidelines for STCs


Thankfully, dodgy solar providers will no longer be able to take advantage after the Clean Energy Regulator updated their guidelines.
From January 31, 2018, whether just one or all the panels of an existing solar PV system are replaced, the new panel(s) will no longer be eligible to receive STCs.
Applications involving one or more replacement panels will still be considered for STCs for installations up to 31 January 2018, assuming all other requirements are met.
What the Change Means for You


Due to replacement panels no longer being viable to receive STCs, your solar panel's quality and warranty will become an even more important consideration.
Choosing quality solar panels with a great warranty will drastically reduce the chance that you'll have to remove and purchase additional panels, without receiving the financial help of STCs.
SunPower, one of Infinite Energy's most popular panels, has a failure rate of just 27 in 1 million panels sold. In the incredibly unlikely circumstances that you need to replace one of your panels, you are fully covered by their industry leading 25-year Product & Labour warranty, meaning the lack of STCs does not leave you out of pocket.
For more information on solar, STCs, and panel warranties, give Infinite Energy a call on 1300 074 669, or request a no obligation callback by clicking here.

back to blog