29 April 2019
Tracking Your Energy Usage: The Best Apps Available on the Market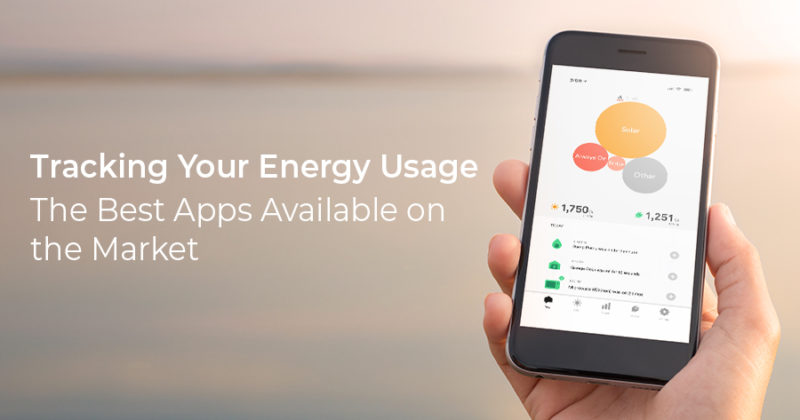 One of the many ways you can make your home more energy efficient is through tracking and measuring your energy usage. Tracking your energy use over an extended period can help you identify your consumption habits, which you can use as a basis to set new goals to become more energy efficient and save money. 
Some homes have built-in monitoring systems installed with their inverter or smart meter, which provide data on energy consumption and solar production. Fortunately, if you don't have these installed, there are other alternatives which you can use to monitor your energy use. Mobile applications are available to make tracking energy easier and more accessible, often used in conjunction with external monitoring hardware.
Below is a list of mobile apps designed to make energy tracking and management a breeze:


Wattcost is an Australian start-up business that has designed a small device to measure and track your energy usage and solar production, as well as providing tips based on the data to help save you money. The app presents simple, easy to understand information showing energy costs and savings in dollars, kWh and CO2-e in real-time.
Their energy tracking app is used in conjunction with 3 sensors - one to capture grid purchases, one for the solar inverter output and a third to measure the home energy use. Installation of the sensors must be done by a qualified electrician, as the two circuit sensors are clamped around electricity cables usually found behind the electricity meter panel.
Wattcost is currently available for pre-order in Australia.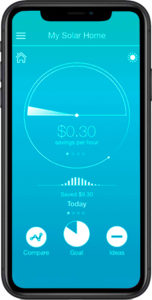 Powerpal, another Aussie start-up, connects your electricity meter to your smart phone, providing you with a simple, effective platform to monitor your energy usage. A sensor is placed on your electricity meter and is able to detect your households energy use, providing real-time data on your consumption. The app provides a visual representation of how your energy is being used and where your money goes. The app also provides alerts to keep you on track of your energy goals, as well as incentives to help you reduce your consumption during peak times, such as free movie tickets.
Powerpal is currently available for pre-order in Australia. 


The Sense home energy monitor detects devices by identifying their unique electrical signals. The easy-to-use app allows you to monitor your electricity from anywhere, and when used in conjunction with the Sense Solar device, provides you with highly accurate whole-of-system energy overview. The Sense home monitor uses two clamp-on sensors and a 240v breaker, allowing it to measure current and voltage one million times per second to determine where your energy is going. Sense home monitor should be installed by a qualified electrician. Sense is also compatible with Alexa, Philips Hue, Wemo Insight and Kasa HS110 smart plugs.
Sense is currently only available for home in the US and Canada, but is a great example of upcoming technology.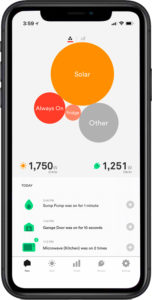 The Energy Rating Calculator is an app created by the Australian Department of Environment. The app provides information on the best options for energy efficient appliances and models and its price, information about the brand and the model in comparison with another. It also shows the sustainability value upon purchasing the appliance by considering the price and energy use over the next 10 years.
The app can be downloaded for free from the Apple App or Google Play Stores and is available Australia-wide.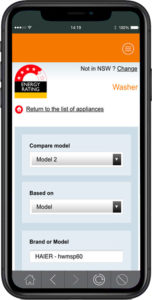 Smappee is used in conjunction with an energy monitor, that provides accurate real-time data on your energy consumption and solar production. The app co-operates with a sensor module that can be easily clipped on to your home's fuse box. Other features of the app include the ability to control compatible appliances through the app, such as switching them on or off, as well as automate energy flows to optimise energy efficiency. Additionally, Smappee is interoperable with other IoT products such as Nest and Amazon Alexa.
Smappee is available worldwide, but as such should be used as a general guide only.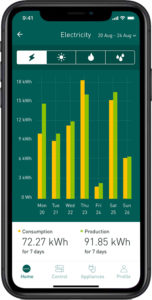 JouleBug takes a different approach to energy tracking and monitoring. Rather than providing you with information about your appliances or the amount of electricity they consume, this app requires you to actively engage in sustainable practices and form new habits. JouleBug works off a point system which gives you credit for every effort you put into saving energy and the environment, based off their tasks and challenges. It also allows you to learn new habits and explore different sustainability practices with your friends that help make a difference in protecting the earth, as well as informing you of how much money your action has saved you.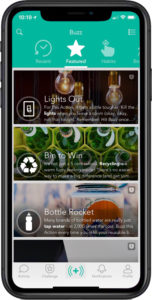 Please note, Infinite Energy does not endorse or have any affiliation with the above mentioned apps. We encourage consumers to assess their own requirements before purchasing any energy tracking software.  

back to blog