04 August 2020
Why it's Important to Select a Fronius Solutions FSP+ Solar Provider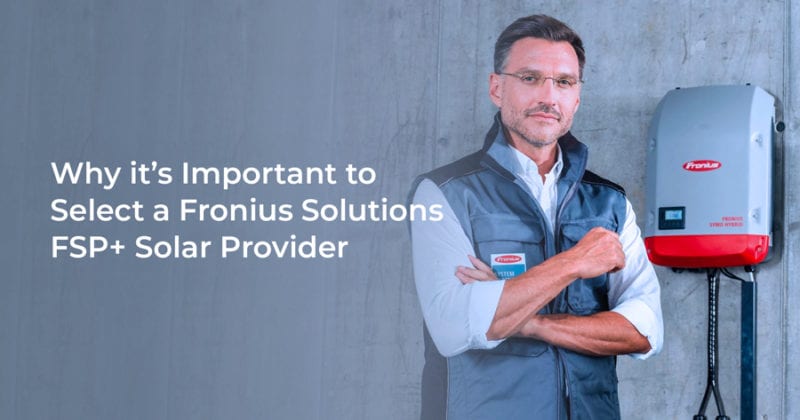 Since Infinite Energy installed our very first Fronius 1G20 inverter just over 10 years ago, we have remained a dedicated retailer for Fronius inverters and components. Infinite Energy was recently recognised for our knowledge and capabilities for servicing Fronius inverters as a Fronius Solutions Partner Plus (FSP+). As one of only a handful of solar providers in Western Australia that are part of the FSP+ program, read on to discover why it's important to select a Fronius Solutions FSP+ provider when considering a solar PV system.
What is a Fronius Solutions Partner Plus (FSP+)?
FSP+ is a partnership between Fronius and select solar providers that aims to provide quality service, product choice and support to their customers.
FSP+ Partners are carefully selected by Fronius due to their extensive knowledge, experience, and passion for quality excellence. Each selected FSP+ has a proven track record of installing and servicing Fronius products, as well as providing exceptional customer-service and after-sales support.
What does this mean for you as a customer?
Top-quality service and support
When selecting a Fronius inverter for your solar system, you can have peace of mind that you are receiving outstanding support and service. As a certified FSP+ Partner, we are required to undertake regular best practice and product training provided by a Fronius technical expert. This ensures that our customers receive top-quality support and proactive solutions to their service enquiries.

Extended warranty and full cover
Thanks to our partnership, all our Fronius customers receive a 10-year parts and labour warranty with their Fronius inverter (the standard is 5 years parts and labour warranty). While there is the option to extend the standard warranty by a further 5 years, (known as their 5+5 warranty), this is only on parts alone. As a certified FSP+ Partner, we can provide our customers with the full 10-year warranty cover for both parts and labour.
In addition to the limited 5-year warranty provided by non-FSP+ providers, Fronius does not directly back the extension warranty either. Often this is the responsibility of your solar provider. If your Fronius inverter needs a service after the first 5 years, your solar provider may cover the costs for repair, labour and shipping of components, however if the solar company goes bankrupt during this time, you will be left to cover these costs despite having the extended warranty. This is why choosing a Fronius FSP+ certified solar provider is so important.
 
Access to the latest product releases
On top of the many other benefits, FSP+ solar providers are given priority access to new product releases. This means that our customers will receive the latest Fronius products available on the market before non FSP+ solar providers, along with full support and warranty cover.
About Fronius
Fronius inverters are fully designed and manufactured in Austria, where they have been developing new and innovative energy solutions for over 75 years. Fronius have been operating in the Australian market for the last few decades, and in 2010, they set up their Australian head office located in Melbourne, allowing them to bring their global brand into the Australian market for decades more to come.
If you would like any information on Fronius inverters for your solar system, or would like to obtain a free, no obligation quote, please contact us today.

back to blog