23 March 2020
Why Solar is Good for First Home Buyers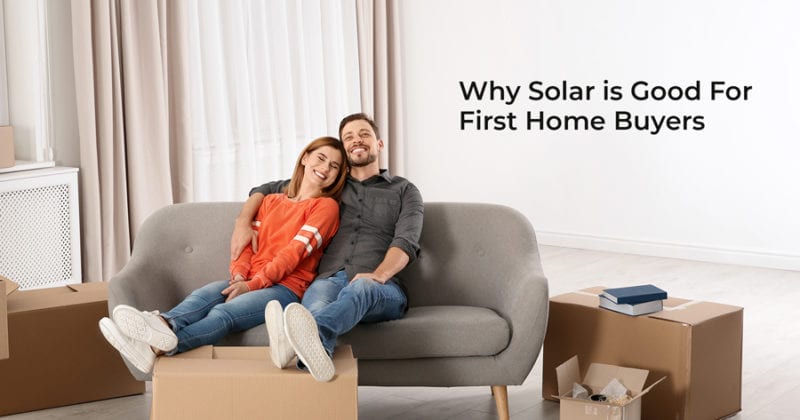 Buying a home for the first time can be overwhelming, not to mention the hard yards you've endured to get to the point where you're able to purchase your first home. It's a huge investment after all, so you want to make sure that every dollar spent is worth it.
As a first home buyer, you've probably put a lot of thought into the features and personal preferences you want included in your first home. However, there's one very important feature that you may not have considered, but you definitely should.
Solar power provides a wealth of benefits to homeowners. It's no secret that solar power is one of the most effective and favored forms of energy in 2020; more than 20% of Australian households have a solar PV system powering their home.
If you're buying a home for the first time, here's why you should consider getting solar panels installed:
Reduce Electricity Bills
Solar power is a form of renewable energy that is sourced from the sun. When a household installs a solar PV system, their reliance on the utility grid is reduced and therefore, so is what they pay for their electricity bills.
By having a solar PV system installed, you can have the peace of mind that the majority of your daytime electricity is covered by the sun. This means you can keep the aircon going on those extremely hot summer days, and not worry about receiving an exorbitant electricity bill later down the track. With a few small changes in your energy consumption habits, you can easily reduce your electricity bill by a few hundred dollars.
On top of this, electricity prices are becoming alarmingly high, so having solar panels can protect you from future price increases.
As a new homeowner, you already have so many expenses to consider, reducing what you pay for electricity is one way you can ease the financial pressure. In fact, holding off installing solar can actually harm your budget.
Increase Your Home's Value
As Australians view solar energy positively, solar panels have become a huge selling point in the residential property market. In fact, a 5kW system can increase your home value by up to $29,000. The more solar panels there are on a property's roof, the higher the property value increases.
If you're likely to rent out your property in the future, you'll find comfort in knowing that renters say they'd pay up to $10 extra a week for a property that had solar.
A Great ROI
Solar panels are a no-brainer investment because you start saving the moment your solar panels are installed. A 5kW rooftop solar system has a payback period of about 2-5 years and a return of up to 25% per year, making solar one of the best investments Australians should consider.
Helps the Environment
Perhaps the most important reason why a solar system is a great addition to a new home is that it helps reduce carbon footprints in the environment. Solar energy is one of the cleanest sources of energy, and Australia is being recognised for its efforts in promoting and utilising solar. In fact, over 2 million homes have been installed with solar panels in Australia – that's 2 million households doing their part in helping the environment and committing to a more sustainable way of living.
Should you consider solar when buying a home for the first time?
With all the benefits one can get from a quality solar system, having solar installed is a smart move for first home buyers. The sooner you can have your own solar system installed in your new home, the quicker you can start benefiting from the returns.  
Our expert solar energy consultants can help you in find the ideal system for your energy needs, so you can start saving from day one. If you're interested in purchasing a solar PV system for your new home, contact us today for a free, no obligation quote.  

back to blog