10 February 2020
Why Holding Off Installing Solar is Harming Your Budget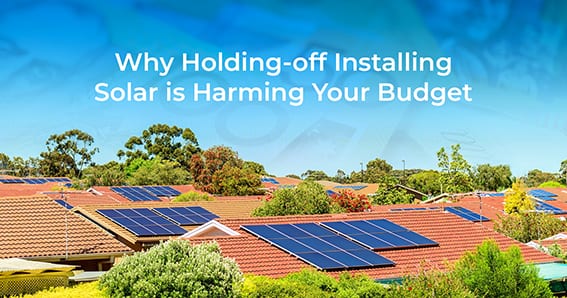 All homeowners experience the dread of paying electricity bills, which often feel like they just continue to get higher. Aside from implementing energy saving initiatives in your home, installing a solar PV system is one of the best investments you can make to reduce the cost of your electricity bills.


Will Solar Become Cheaper?
In Australia, the desire to have a residential solar system is evident, with more than 2 million homes having a solar system installed. The demand is mainly due to increasing electricity price hikes, which don't look to be improving anytime soon.
What's more, the industry is experiencing a "solar boom," with solar module prices having dropped by 75% in the past five years, partly due to technological advancements making them cheaper to produce.
But should you wait until prices are lower? You can, however it's unlikely that prices are going to reduce by much more. The biggest change we are seeing in solar systems is panel efficiency, not price drops.

Opportunity Cost
The savings generated by your solar system are immediate; the moment you have your solar system connected is the moment you start saving money.
On top of this, delaying installing solar would also delay the immediate benefits you gain. For example, if you installed a 6.6kW system and you financed the system, this would require repayments of around $1,200 for the year. However, assuming you pay $450 bi-monthly for your electricity bills, this adds up to $2,700 in a year. Therefore, you are $1,500 better off installing solar than if you were to delay it.  Over a few years, this amount significantly adds up!

Government Rebates
If you choose to hold off installing solar, you run the risk of missing out on STCs which also contributes to a higher payment. Small-scale Technology Certificates or STCs, are a government funded form of support to assist homeowners and small businesses in installing a solar PV system. The STCs act as a discount off the upfront cost of a system. Each STC represents one megawatt of power that your system will generate up until 2031, when the scheme will be completely phased out, if not before then. The value of each STC is reducing each year because of this gradual phase out, meaning your rebate will become less and less each year you delay installing solar.

Increase Your Home's Value
Your home is one of your most important and valuable assets. Installing a solar PV system can significantly increase your home's value. Unlike other home assets, such as swimming pools, solar power is considered much more important these days when trying to rent or sell your home. In a study done by Realestate.com.au, 85% of Australians believe homes with solar panel systems have a higher value than those that don't. Homes with solar power have been found to sell 20% faster than regular homes. Renters also say they'd pay up to $10 extra a week for a rental property that had solar.
 Trends show that electricity prices are rising and will continue to do so in the long run. When your main source of daytime power comes from your solar system, you can significantly reduce your reliance on the utility grid and subsequently, the cost of your electricity bills. Installing a solar system can bring immediate benefits, but also long-term gain. Don't hold off installing solar any longer. Contact us today for a free, no obligation quote.

back to blog