01 September 2020
Why Spring is a Great Time to Install Solar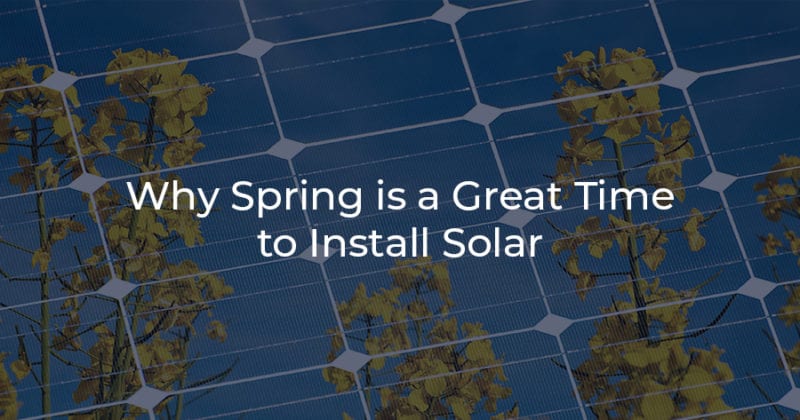 With the warmer weather finally on its way, more and more people are starting to consider if they should install a solar PV system on their home or business.
So why is spring such a great time to install solar? Let's find out. 


1) Peak Solar Production
Spring is the second best season for solar production (with summer being the highest), making it a great time to install your solar system.
For example, last spring (2019), Perth saw a mean maximum temperature of 25.3 °C and average daylight hours of 12, making it an excellent period for solar generation.
This means by installing your solar PV system in spring, you'll get to see the great results – and savings – of your new investment straight away.
2) Get Ready to Offset High Summer Energy Bills
Installing your brand new solar PV system in spring also means you'll be ready to take advantage of the great weather and associated high production rates of summer.
This will help you offset high energy bills associated with increased air-conditioning use, resulting in substantial savings. With solar, you can use your air-conditioning during the hottest hours of the day, and not worry about being stung with a high energy bill.
3) STC Phase Out
Due to the phase out of government incentives, otherwise known at STCs, we recommend you install your solar PV system as soon as possible to avoid missing out on the higher rebate.
By installing your system this spring, you'll secure the current STC incentives and maximise your savings.
4) Beat the Summer Rush
With great weather and long stretches of sunny days, investing in solar comes to the forefront of many consumer's minds in the summer months. By installing your system in spring, you can beat the summer rush and get your system installed quick smart.
The Bottom Line


With the STC Phase Out coming into effect, and the great production rates of summer just around the corner, spring is the perfect time to go solar.
Installing between September and November promises very high production rates, and will have you ready to fully utilise your new system come the warmer months.
To find out how much going solar could save you on your electricity bills, and to get in before the summer rush, request a no obligation quote today, or call us on 1300 074 669.

back to blog