27 May 2016
The Beginning of the End for STCs
STCs explained
If you've looked into buying a solar power system, you're probably already familiar with Small-Scale Technology Certificates or STCs. A huge incentive for both homeowners and businesses, STCs offer substantial discounts off the upfront cost of a Solar PV System.
When purchasing a Solar PV System, you'll receive 1 STC for every Megawatt-hour of energy your system is expected to produce over the next 15 years.
For example, a 5kW system (approx 20 panels) will produce around 105MWh worth of electricity over a 15-year period, meaning you are entitled to 105 STCs.
Once your STCs have been authorized, they act as a form of currency that can be sold to recover a portion of the cost of purchasing the system. (It's common practice to allocate the STCs to the system provider in exchange for a discount on the purchase price.)
STCs currently trade for around $38 each, which means you'd receive a $3,990 discount off the cost of a 5kW system.
 
STC changes
Due to changes made by the Federal Government, these incentives are set to reduce by 1/15 (around 6-7%) in January 2017 and every year thereafter, until 2031 when they are eventually phased out completely. This means the sooner you invest in a solar power system, the more you'll save on the upfront cost.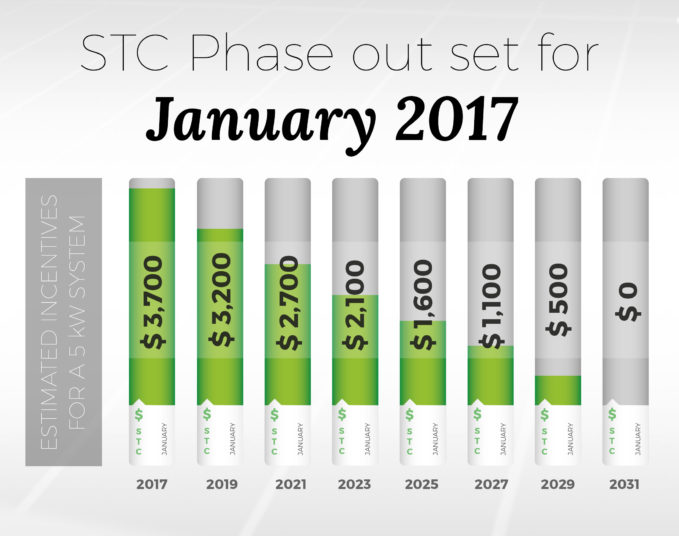 For example:
If you purchase a 5kW solar system now, you'll receive around $3,600 in incentives.
If you purchase a 5kW solar system in 5 years' time, you'll receive just $2,660 in incentives.
That's a difference of nearly $1,000.
Taking into account the savings a 5kW solar system would give you during this time – an estimated $7,500 or more thanks to rising electricity prices (this is based on average savings of 250 per bill cycle) – and your missed savings quickly increase by the thousands.

There is also no guarantee the decreased STCs will stick around until 2031. The Federal Government, regardless of which party holds power, has the ability to axe the incentives at any point in time.
Now's the time to act
To secure the current STC incentives and maximise your savings before they drop further, you'll need to purchase and install your solar system before January 1, 2018.
To find out which system size best suits your energy needs and how much going solar you could save you on your electricity bills, request a no obligation quote today.

back to blog