11 November 2019
7 Red Flags to Watch Out for When Shopping for Solar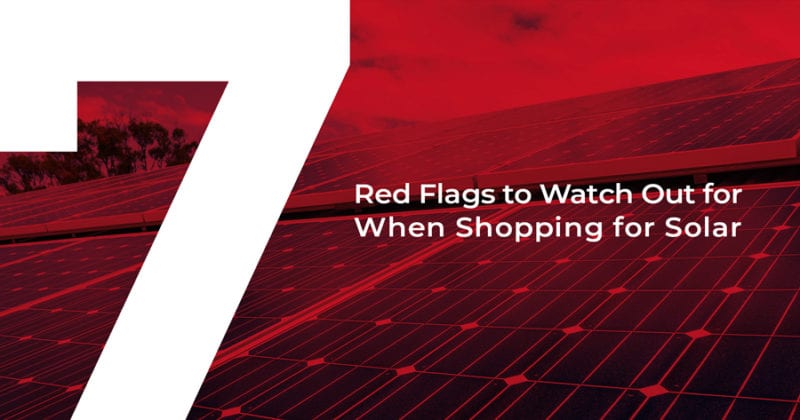 Customers have different wants and expectations when it comes to buying solar panels. Some want the latest and greatest technology; others want the best value for money. Either way, both customers want a reliable solar company to purchase their system from. But how can you decipher a trustworthy company from a not so trustworthy company?
There are several red flags to look out for when shopping around for solar. These include:
Red Flag #1 – High Pressure Sales
High pressure sales such as a "today-only discount" can seem like a great deal. While it's a typical sales technique, it's usually because the company wants to make a quick sale without allowing potential customers to do their research into solar. The less research and knowledge you have on solar, the better it is for them.
Often these companies have poor quality products, a poor reputation, or their price is too high. As an individual with no prior solar research, it can be impossible to pick this from someone knocking on your door giving you a fancy sales pitch.
You should always ask for time to go away and think about your options, and never sign on the spot. We encourage you to do your own research and find a company that you're comfortable working with.
Red Flag #2 – 'Price Beat' policy
Be wary of any solar company with a 'Price Match' or 'Price Beat' policy; there's a reason why the company can offer these kinds of deals.
Purchasing a solar system is not like buying a product from a regular retail store where you know exactly what you're getting. For example, if you buy a Ryobi drill from Bunnings 5% cheaper than at Mitre 10, that's a genuine 5% saving as the product is identical no matter where you purchase it from.
However, in the solar industry it's not quite the same. Aside from differing levels of quality in panels and inverters, it's not uncommon for solar companies to cut costs on cheap electrical isolators, switchgear, connectors, cabling, and mounting. These are important components that customers rarely know to ask about.
Costs can be further reduced by employing unskilled labour on low wages, which creates the risk of the install being unsafe and of low-quality.  
If a solar company has cut every cost and every corner possible, that's when they can make claims such as "best price guaranteed" or "we'll beat any quote".  
#3 – Outdated solar panels and weak warranties
The minimum watt for a good-quality solar panel these days is at least 300W. Watts are the power output generated by a panel and are often used as a good criterion to compare different panels against each other. High-quality panels, such as the Maxeon panel from SunPower, have a 400W rating.
However, some companies are still providing panels that are less than 300W. Outdated panels like this are only offered by solar companies determined to cut costs. If their main product is being cost-cut, then it doesn't provide much confidence that they aren't cutting costs elsewhere in the business. Generally, if a company is choosing to provide low-quality panels, their installation practices are often affected too with cheap isolators, circuit breakers, cabling, etc.
The warranty of a panel is also extremely important. There are two different warranties associated with a solar panel; product warranty and performance warranty. Your product warranty is the most important of the two. Ensure you check the T&C's of your warranties, and look out for statements such as the below:

This company has essentially said that if you've been given an old panel that has been sitting around in a warehouse for a while (more than 6 months since it left the production facility), the warranty period will have already started before you've even been delivered the panel, and unfortunately,  they are within their right to do that.
#4 – "Interest Free" finance
All finance comes at a price. When a company offers you no-finance loans, they will often recoup the costs of providing finance to you by charging you a fee, usually in the form of one of two fees:
Merchant Fee: a fee charged by the finance company to the retailer.
Account Fees: such as management fee, monthly fees, etc.
Lenders ensure that the retailer cannot charge the customer for the merchant fee, but most solar companies don't just 'absorb' this price. They simply inflate the price of the system they're offering you, often by at least 20%, and there's no way for you to know that this has occurred. For example, a poor quality $4,000 system can be inflated to $5,000 and offered with "interest free" finance. This price still seems competitive when compared to other solar companies offering higher quality systems for $5,000+.
On top of this fee, you can also be charged late fees, change of details, collection fees, repeat purchase fees, and revolving credit account fees so you should always be aware of all the costs involved with any finance option offered.
There are several other downsides to interest-free finance loans:
No benefit of paying the loan off early
The minimum repayments may not cover the loan over the set time period, so you can be charged with interest rates as high as 29% on any outstanding amount
No protections under the National Consumer Credit Act

More information on why an interest free loan is not as cheap as you think, can be found on our blog here.
Infinite Energy secures low-interest finance through RateSetter, a peer-to-peer lender that offers better rates and flexible loan options. More information on why a green loan through Rate Setter is better financially than a no-interest loan can be found here.
#5 – ABN LookUp
Another key thing when researching a solar company is to check how long they have been in business. You can check this by looking up the company's ABN on this website.
Checking the length of time a business has been operating for can determine if they have a strong foothold to last through the ups and downs of running a solar business.
In conjunction, if a solar company sells cheap components and have been in business for less than five years, they haven't yet experienced the excessive product failures and warranty claims that inevitably start snowballing around the 5-year mark. Often this is where companies can be forced to close, leaving customers with little option when it comes to claiming their warranty when their system fails.

Our blog on how to background check a solar company explains this in further detail, along with other important points to look out for.
To date, more than 750 solar companies have closed down since 2011. This excessive number is proof that choosing the right solar provider is vital.
#6 – Credibility of Online Reviews
Online reviews are a great tool for assessing what to expect when engaging with a company, as well as how they treat their customers who have disputes and how they resolve issues. However, online reviews can be tainted so it's important to keep an eye out for certain factors as you read the reviews of solar companies you're researching.
Firstly, is the Star Rating consistent across all review platforms? It's important to check reviews across multiple platforms, such as Google, Facebook, SolarQuotes and Product Review. If a business is delivering consistent quality service, then their reviews should reflect this across the multiple review platforms.
If the Star Rating varies significantly between review platforms, this could indicate there is something fishy going on. Some businesses have been caught inflating their star-rating by offering incentives for positive reviews (or even buying fake reviews). That inflated star-rating can then be promoted on advertising and marketing material.
It's also worthwhile noting how many reviews a solar company has compared to how long they've been in business. As mentioned in point #5, you can perform an ABN LookUp to see how many years the business has been operating, then compare this with the number of negative reviews. Regardless of the overall star-rating (which some companies inflate by offering incentives), excessive negative reviews over a short period of time in business is another red-flag to watch out for. 
If the business has limited reviews (positive or negative) this may indicate you're dealing with a business with limited experience.
Lastly, disabled Facebook reviews are a major red flag. In this day & age, most businesses have a Facebook page. When creating a business Facebook page, 'Reviews' are enabled by default. However, the business has full control over their Facebook page and can choose to deactivate and hide their reviews. If the solar company has their Facebook reviews hidden, this is obviously because they are trying to stop potential customers seeing the multitude of bad reviews they have, and prevent current customers from leaving them too. If the solar company you are looking into has their Facebook reviews hidden, be cautious about going ahead with them.
#7 – Free Panels 
Whilst the offer of "Free Panels" may sound appealing, there's a sneaky reason why some solar companies quote every system with "Free" panels.
1. Sometimes, when roof space is limited, unfortunately not all the solar panels can fit. Despite not installing the system you signed up for, a dodgy solar company may refuse to adjust the original price because some of the panels were "Free" to begin with. In fact, the salesperson may have known from the very start that the "Free Panels" were never going to fit.
2. Watch out for T&C's such as "no warranty on freebies, giveaways or promo products". If a panel becomes faulty, the solar company may try to avoid their warranty obligations by claiming the panel was a giveaway product.
An Infinite Energy energy consultant can answer any queries you may have about the points discussed above, and assist you with getting a quote for solar for your home or business. Simply contact us today.

back to blog