28 June 2021
Brand partner focus: Sustainability at Fronius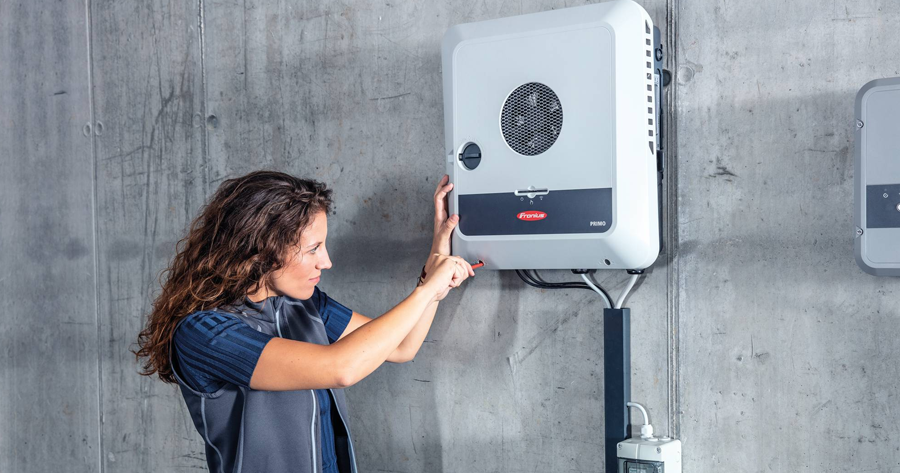 At Infinite Energy, we place a huge focus on our own sustainability practices and aim to only work with supplies and manufacturers who do the same.
Our brand partner Fronius are particularly dedicated to promoting sustainable action within their company and working towards a renewable energy future. This is especially evident from the development of their GEN24 Plus solar inverter, which has been created specifically with environmentally friendly practices in mind. 
Life Cycle Assesment, or LCA is the framework formed around reviewing the entire life cycle of a product and optimising phases along the way to ensure it is as environmentally sustainable as possible; from the raw materials and transportation, right through to the product's service life and ease of repair.
This is the framework in which the GEN24 Plus solar inverter was created to ensure that every bit of its lifecycle is tuned towards the utmost sustainability, which has resulted in a product with a positive environmental benefit far exceeding its impact. Read on to learn more about Fronius' sustainability practices and how the GEN24 Plus solar inverter is specifically engineered to reflect these efforts.


GEN24 Plus product efficiency
The GEN24 Plus solar inverter has extremely low energy loss thanks to a maximum system efficiency with home storage from BYD (Energy Storage Inspection 2020 by the HTW Berlin University of Applied Sciences).
The solar inverter has been future-proofed to include a large number of functions, extending into solar batteries, solar water heating, and electrical vehicle (EV) charging, which helps reduce the need for more appliances and devices to be manufactured.


Sustainable Production
All sites that handle the production of Fronius products have environmental management systems in place that are certified according to ISO 14001. All of the power that is used on site is 100% renewable energy and 86% of the entire direct energy consumption comes from renewable sources.


Long Service Life
As mentioned previously, Fronius place a high emphasis on the longevity of their products and aim to make their products repairable, rather than replaceable. They work hard to pair sustainable production practices with the highest quality of product to ensure a long product life cycle.
The GEN24 Plus solar inverter incorporates active cooling technology to maintain optimal temperatures for the electronic components, providing much greater temperature control than other passively cooled devices, which helps prolong the endurance of their products.
Fronius also offer an innovative service concept to enhance the speed and ease of repairs, as almost all the parts of their solar inverters can be replaced individually, helping to minimise wasted materials and resources. This also ensures that Fronius maximises the service life of each component.


Raw Materials & Recycling
To preserve our planet's limited resources, Fronius greatly emphasises the use of recycled materials and ease of repair for their products. By repairing rather than replacing, Fronius ensures more of their solar power products are kept out of landfill. Their aluminium cooling components are made up of 90% recycled aluminium and 90% of all of their packaging is recyclable.


Overall Environmental Benefit
Based on the results of the LCA conducted by the respected Fraunhofer Institute, the environmental benefits of the GEN24 Plus inverter are up to 26 times greater than the energy used to manufacture and operate the solar inverter, which also includes reuse and disposing of wastage.
With all of these efforts in mind, it's no wonder that Fronius remains at the forefront of solar power technology while still ensuring that the company operates sustainably with the environment in mind.
If you'd like to learn more about how you can help to live more sustainably by investing in solar power and installing solar panels at your home or business, call us on 1300 074 669, or enquire with us to arrange an obligation free quote.

back to blog