14 September 2020
How Important are Residential Feed-in Tariffs?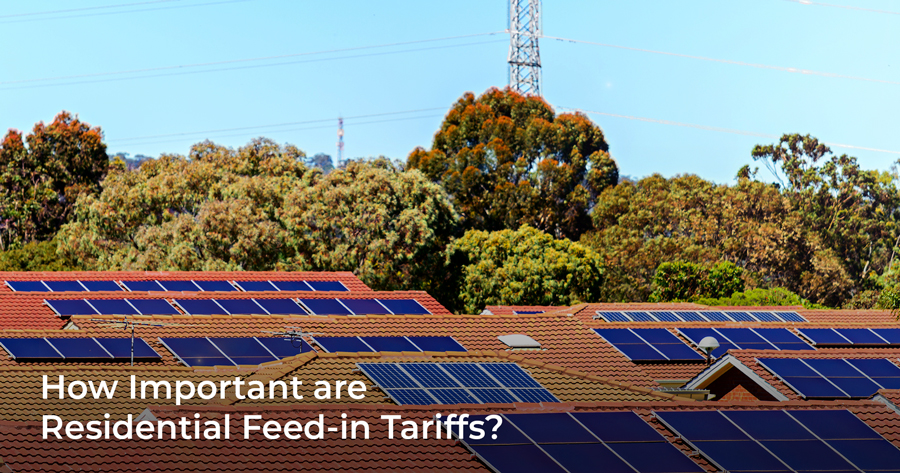 For most people, the motivation behind investing in solar is that they want to save money on their electricity bill and use less power from the grid. In that case, it would make sense to invest in the system that produces the exact amount of power you need. 
Well… not exactly. Choosing the right solar PV system is a little more complicated than that and by investing in a system that only produces what you need right now, you may be selling yourself short in the future. By oversizing your system, you'll also benefit from generating extra electricity to be credited back to you as a feed-in tariff. However, it's important to not focus on your feed-in tariff as your primary savings. 
In this blog, we will cover the reasons why you should "oversize" your solar system, and secondly, look at how important feed-in tariffs are to contributing to your overall savings. 
Advantages of oversizing your system
Let's say your household consumes 20 units of power a day – which is precisely the amount a 4 kW system generates on an average day. You might assume then, that a 4kW system is the correct sized system to buy, which is not necessarily accurate.

The reason behind this is because solar PV production is instantaneous; the power your system generates is available for use right away. So although a 4 kW system will generate the 20 units a day you need, it can't always produce the exact amount of power you need at specific points during the day.  Buying a slightly "oversized" PV system will help you to ensure the right amount of power is available when you need it, which is particularly important at peak times when demand is at its highest.
Planning for the future

But that's not the only reason you should consider upsizing your system. Changes in your life - like growing your family or retiring and spending more time at home – can all increase the amount of electricity you use throughout the day. If you had to start working from home during the Covid-19 pandemic, you might have noticed that your energy bills were a lot higher than normal. So if you've purchased a system that only covers your needs at the time of purchase, you may be left in a tricky situation where you need more power to cover your increased energy needs, but your existing system can't do the job.
There are two simple solutions to this dilemma; either you buy more power from the grid (increasing your power bills at the same time), or you add additional panels to your existing system. Although adding extra panels is easily done, it can be an expensive exercise which you could have easily avoided if you had purchased the correct sized system in the first place. Our experienced Energy Consultants will be able to help you determine the correct sized system that suits your current energy requirements, as well as your future needs.
The benefits of batteries
Thanks to the wide range of battery storage options now available, you can easily store your unused power, rather than sending it back to the grid for a residential feed-in tariff. But doing so requires two things: a battery-compatible inverter and a system large enough to support it.
A larger system that incorporates battery storage ensures you'll not only have the right amount of power when you need it, it also enables you to store your excess solar power to use when your solar panels aren't producing, ensuring that nothing goes to waste.
Feed-in tariff changes
If you don't have a battery to store the excess power that your solar system produces, then you will instead benefit from feed-in tariffs. A feed-in tariff is the name given to the money you receive for the power you don't consume that your solar system sends back to the grid.
Feed-in tariff rates vary from state to state and in most states, apart from Western Australia, Tasmania, and the Northern Territory will also vary depending on your electricity retailer.
In WA, feed-in tariff structures have been changed recently, with the WA Government announcing that the Renewable Energy Buyback Scheme (REBS) will be replaced by the Distributed Energy Buyback Scheme (DEBS) for eligible new and upgraded systems.
This reform is part of the Distributed Energy Roadmap and is designed to encourage households to self-consume the power generated by their solar PV system. It also aims to direct excess solar PV energy to the electricity network when required, which in turn helps stabilise the electricity network.
While the change from REBS to DEBS will have positive macro benefits to the WA electricity network, there have been some concerns from customers who feel like they won't be getting as much of a good deal under the new rates. Let's go through what the differences in savings will be when you have solar power under DEBS rather than REBS.
How much can you save?
When we talk about savings from your solar system, they are ultimately determined by the ratio of the power you consume (offsetting against 28.82c), and the power you export (previously 7c, soon to be 3c/10c per kWh). This ratio will depend on your household's consumption habits, such as the time of the day when people are home and using the most power, what devices you are using, and whether or not you have battery storage.
For example, if you have a standard home with 6kW of solar and no battery storage, assuming a ratio of 50% power consumed vs 50% sent to the electricity network, the annual difference in savings between the two schemes will be approximately $1,950 per year saved under REBS (the existing scheme) and $1,720 per year saved under DEBS (the new scheme).
Solar is still a great solution
As you can see, the difference in ROI between REBS and DEBS is minimal and proves that solar is still a fantastic investment. You can further control the amount that you save by aiming to self-consume as much energy as you can during the day.
By buying an "oversized" system now, you can take advantage of the maximum savings on offer, as well as preparing yourself for possible increases to your electricity consumption in the future. Not only that, you'll also have the capacity to generate additional power that can be stored in solar batteries further down the track.
That's why it pays to get the right advice before you make a decision. For an obligation-free discussion about your solar power needs, give us a call on 1800 127 588 or request a callback today. Our highly trained and experienced consultants can help you explore your options and find the solar solution that's perfect for you and your needs.

back to blog