08 March 2017
Infinite Energy Re-Signs as the West Coast Eagles' Principal Energy Partner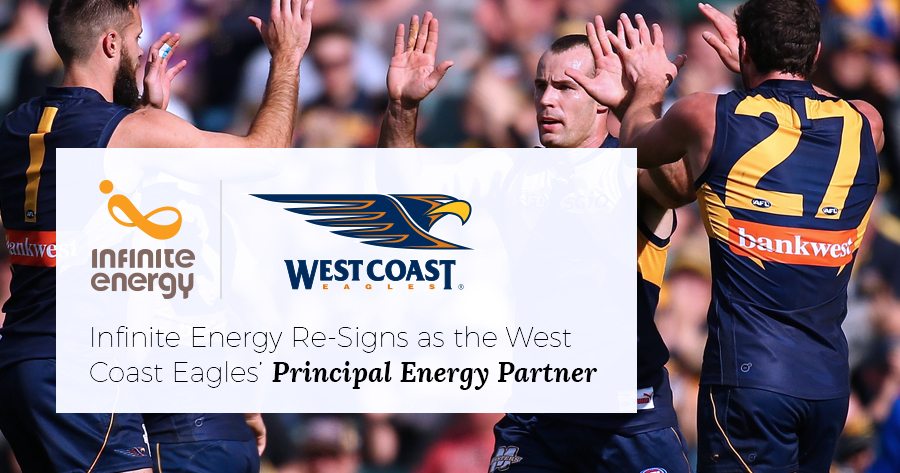 Following an undeniably strong 2016 season for the West Coast Eagles, Infinite Energy is excited to announce we've officially re-signed as the team's Principal Energy Partner for the 2017 AFL Premiership Season!
Infinite Energy has been an official partner with the West Coast Eagles since 2014, becoming the team's Principal Energy Partner for the first time in 2016. The partnership will provide Infinite Energy with a unique platform to help deliver cheaper and cleaner electricity to both homes and businesses across the state thanks to substantial exposure at Domain Stadium.
According to Infinite Energy CEO, Aidan Jenkins, the West Coast Eagles are a great fit for the solar provider thanks to aligning key values.
"Like Infinite Energy, the West Coast Eagles has a strong emphasis on innovation and leadership, as well as giving back to the local community through various charitable partnerships and programs, including the Wirrpanda Foundation, Cans for a Cause, the Tabitha Foundation, and many more.
"Partnering with the West Coast Eagles will help Infinite Energy educate more West Australians about the benefits of solar PV and batteries. With climate change becoming more of a threat and electricity prices only expected to rise, renewable energy solutions like solar are becoming more popular not just for their cost saving benefits, but also to help us achieve a more sustainable future."
Infinite Energy looks forward to supporting the Eagles for another successful year on and off the field, and wishes them all the best for the 2017 AFL Season.
About Infinite Energy


Infinite Energy is one of the leading providers of solar energy systems in Australia for both residential and commercial applications. WA owned and operated with a head office and solar panel test facility located in South Perth, Infinite Energy has installed solar on over 8,000 homes, businesses and government facilities since being founded in 2009. Infinite Energy is also an approved Tesla Powerwall reseller, and in 2016 installed the first ever Powerwall in WA.
Infinite Energy is committed to delivering cheaper and cleaner energy to Australian homes and businesses through its five major divisions:
- Solar
- Battery Storage
- Electricity
- Embedded Networks
- Electric Vehicle Chargers
Notable projects include:
- Parliament House (17kW)
- Curtin University (50kW)
- UWA Business School (40kW)
- RAC (100kW)
- Sandalford Wines (100kW)
- Broadway Fair Shopping Centre (312kW)
- Sacred Heart College (94kW)

back to blog