29 October 2018
Infinite Energy Approved to Provide SA Government Home Battery Scheme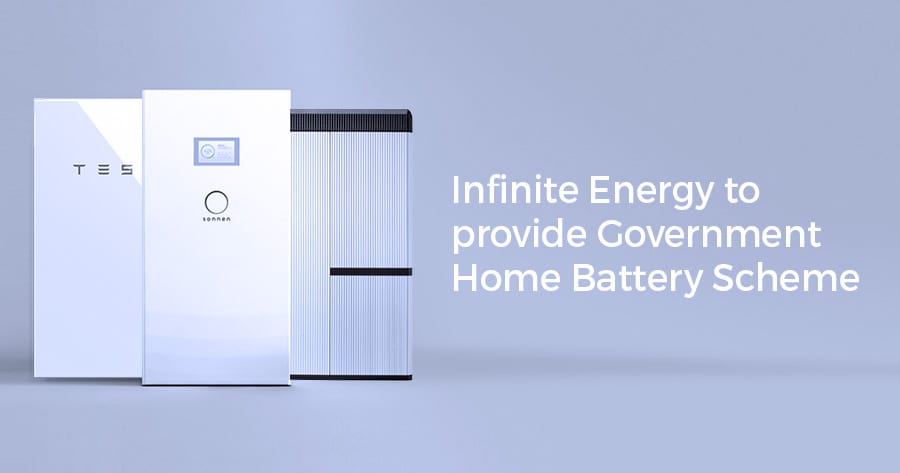 Infinite Energy is proud to announce that we have been selected as a Qualified System Provider for the South Australian Home Battery Scheme, launched in October 2018.
The Home Battery Scheme is providing 40, 000 households with grants of up to $6,000 to assist in the installation of home battery systems and aims to eliminate blackouts and reduce power bills for all SA households.
Requirements to become a System Provider
To sell and install eligible home battery systems through the Scheme, businesses are required to be approved as a Qualified System Provider.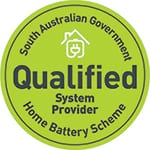 The prerequisites for a company to become a Qualified System Provider for the scheme include providers being able to demonstrate their ability to safely install eligible systems, only using Clean Energy Council (CEC) approved installers and have a CEC Approved Retailer status (or similar). Providers are also required to outline the extent to which their products and services will contribute to the South Australian economy.
Priority for the first 9 weeks has been given to Qualified System Providers such as Infinite Energy who install battery systems that are manufactured or assembled in South Australia (for example, sonnenBatterie).
From January 2019, home battery systems manufactured or assembled outside of South Australia will also be available.
Infinite Energy will offer customers participating in the scheme, premium battery storage solutions, including the Tesla Powerwall 2, sonnenBatterie and LG Chem Resu. 
Battery Criteria
Batteries will need to be Virtual Power Plant (VPP) ready to be considered eligible for the scheme. VPP is essentially a network of individual solar PV and battery systems, that deliver excess solar energy back to the grid to disperse to the wider community.
The system must have a minimum 5-year warranty, including workmanship, and the battery component must have a minimum 7-year warranty.
It is also required that installations are only performed by a CEC-accredited installer.
About the Home Battery Scheme
The Scheme is an initiative by the Liberal State Government to encourage South Australian's to invest in solar and energy storage, with the commitment to provide more affordable, reliable energy for residents.
Up to $6,000 will be given to individuals to install home battery systems, however, this will be graded on support, meaning that energy-concession holders (low-income households, pensioners) will be offered $600p/kW, while other households will get a subsidy of around $500/kWh.
The subsidies will likely reduce each year; however, this will be in line with the falling costs of battery storage and to ensure that the 40,000 eligible households can participate.
To further assist households, the Clean Energy Finance Corporation (CEFC) will offer $100 million in loans to help residents with the upfront costs of battery storage, as well as provide finance for upgraded or new solar power systems to those who don't currently have one.
Finance is available through Australian peer-to-peer lender, RateSetter, who will be authorised to administer the subsidy and finance available through the Home Battery Scheme.

Read more about the SA Home Battery Scheme here.
How to Register for the SA Home Battery Scheme
Step 1
To register your interest in the SA Home Battery Scheme, simply complete the enquiry form or call us on 1300 074 669.
Step 2
One of our expert Energy Consultants in South Australia will give you a call to discuss how Infinite Energy can help you save on your electricity bills with a solar and/or battery storage system.
Step 3
Decide which financing option works for you, accept the quote and we'll take care of everything else.
With such substantial subsidies available on the cost of a battery, as well as low-interest finance if needed, there's never been a better time to invest in a solar and a battery system for your South Australian home.
For more information or to register your interest, contact Infinite Energy today.

back to blog