06 December 2021
Look out for these common solar panel problems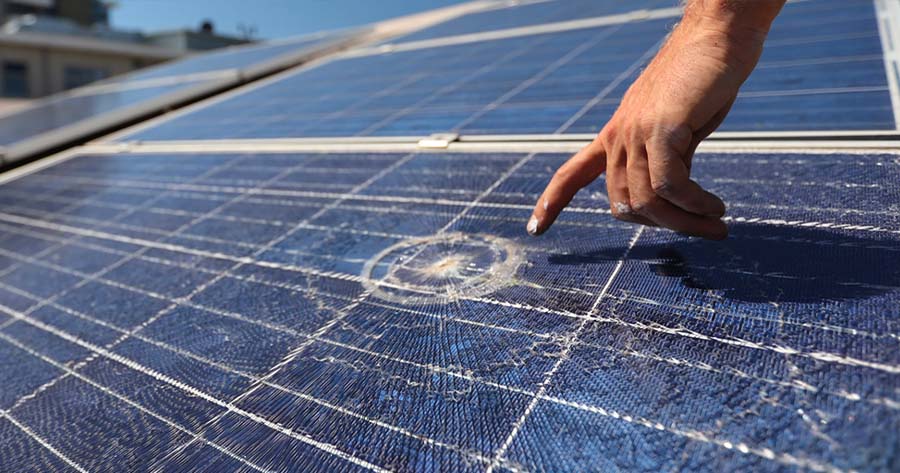 A solar power system is one of the best investments you can make; not only do you start saving on your power bills from day one, but you are also contributing to a lower-carbon future and doing your part towards creating a more sustainable future.
While solar energy systems are relatively low maintenance, as with any product, problems can sometimes occur. This is particularly true for the most visible part of your solar power system, your solar panels. We've put together this useful guide of possible problems with solar panels to be aware of and look out for, as well as how to avoid them.
Hot Spots 
Hot spots can occur when a solar panel's energy production pathways are disrupted. If the solar panel's energy cannot successfully flow through to your solar inverter, it can become overloaded and emit excess heat, so they get 'hot'. This is one of the most common problems that you may experience with your solar panels. Hot spots can reduce your solar panel's performance and lifespan and, in some cases, can cause them to become irreparable.
Hot spots on your solar panels can be caused by things like the accumulation of dirt or bird droppings, partial shading, or structural defects.
Prevention is always better than the cure, and that certainly applies in this instance. You can do your part in maintaining your solar panels to reduce this problem, by ensuring that there is no build-up of dirt or bird droppings on the solar panels. But this isn't so easy when it comes to factors like partial shading and structural defects. This is why it pays to always purchase your solar power system from a reputable solar panel installer, who will be able to take these factors into account when designing your solar array, so that it shouldn't be a problem.  It is also important to pay attention to your product warranty in case a solar panel replacement is required, to ensure you aren't out-of-pocket.
Micro-Cracks
Solar cells or photovoltaic (PV) cells that make up your solar panel are very fragile, and so sometimes micro-cracks can occur on your panels. Micro-cracks are exactly what they sound like; tiny cracks that can appear on the solar panels. Initially, these are often hard to see but over time, the cracks can grow larger and become more visible. When these cracks become larger, they can reduce the efficiency of your solar power system, by disrupting the flow of energy in your solar panel and decreasing your system's energy output.
Unfortunately, there is little that can be done to fix micro-cracks once they become large enough to affect your solar panel's production and your solar panels may made need to be replaced.
Micro-cracks can sometimes occur during the solar panel production process from less reputable producers but more commonly can be caused through negligent handling during shipping or installation. They can also be caused from bad weather like hail. This is why Infinite Energy places such importance on sourcing our solar panels from reliable and trustworthy manufacturers like SunPower and Canadian Solar and work so closely with our installation teams to minimise the chance of any issues occurring during the installation process. 
Snail Trails 
Snail trails are the brown lines that can form on solar panels, that look like snail tracks on the surface of your panels. They are caused by a build-up of moisture in your solar panels and can reduce their overall performance and in some cases can even cause them to fail prematurely. 
Snail trails can be caused by several factors, including defective silver paste used during the manufacturing of the solar panels, or micro-cracks in the solar cells which can create localised heat, which reacts with the moisture present, causing the snail trails.
The best way to prevent snail trails on your solar panels is to ensure you work with a reputable solar installation company that offers quality products and making sure that the warranties offered cover issues like this. This way you will know that if your solar panels have any type of problem, you will be looked after.
We hope you now have a much better understanding into some of the possible problems that can occur with solar panels and what can be done in order to reduce your risk of suffering from these issues. If you would like to discuss any of these problems and learn what measures Infinite Energy takes in order to minimise these issues, get in touch with us by arranging a call-back, or give us a call on 1300 074 669.

back to blog