22 April 2019
What Size Solar System Do I Need?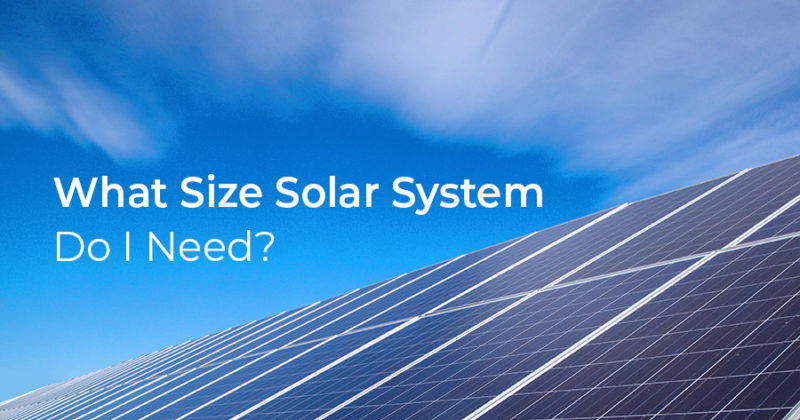 Once you've decided to invest in solar, there are a few things you'll need to consider. One of the first and most important decisions will be what size system to install. Below is a guide to help you understand what size system is best suited to meet your electricity requirements and future energy goals.
Energy needs
One of the key things to consider when determining which size system will meet your needs is your energy usage requirements. Depending on the number of people living in your household, the types of appliances you use and how much your daily energy consumption is, are all contributing factors.
To understand your daily energy consumption, take a look at your last electricity bill to get an idea of your current usage. Most electricity retailers will provide a graph on your bill which outlines your consumption in units, and in most cases, compares it to your previous bill.
Our Size Comparison Chart is a useful tool you can use to determine which size system would suit your needs, while also taking into account budget and anticipated payback periods.
| | | | | | | |
| --- | --- | --- | --- | --- | --- | --- |
| I have an average electricity bill of… | Solar system size | Avg cost of solar system in Perth | No. of panels | Power generated | How much can I save? | Average payback period |
| $120 per cycle | 1.5kW | $2,490 - $3,200 | 5 | 7 units/day | $105 per electricity bill, when operating at full capacity | Within 5 years |
| $150 per cycle | 2kW | $2,690 - $4,100 | 6 | 9 units/day | $90 - $145 per electricity bill | Within 4 years |
| $220 or more per cycle | 3kW | $2,990 - $5,600 | 10 | 13 units/day | $120 - $200 per electricity bill | 3 years |
| $300 or more per cycle | 4kW | $3,660 - $6,900 | 13 | 18 units/day | $140 - $270 per electricity bill | 3-4 years |
| $350 or more per cycle | 5kW | $3,790 - $8,000 | 17 | 22 units/day | $180 - $350 per electricity bill | 2.5-4 years |
| $450 or more per cycle | 6kW | $3,990 - $9000 | 20 | 26 units/day | $200 - $400 per electricity bill | 2.5-4 years |
| $500 plus per cycle | 7kW | $7,170 - $10,900 | 23 | 31 units/day | $300 - $450 per electricity bill | 2.5-4 years |
| $600 plus per cycle | 8kW | $7,500 - $11,200 | 27 | 35 units/day | $300 - $505 per electricity bill | 2.5-3.5 years |
| $700 plus per cycle | 9kW | $9,600 - $13,600 | 30 | 40 units/day | $300 - $600 per electricity bill | 3-5 years |
| $800 or more per cycle | 10kW | $9,490 - $14,300 | 33 | 44 units/day | $400 - $700 per electricity bill | 3-5 years |
Please note this chart has been designed as a rough guide only.
Roof size and design
The size, orientation and layout of the available roof space will largely determine what size system you can install, as the panels will need to physically fit on the available space without any vents, antennas or chimneys being in the way. Panels measure 1.7m x 1m each; as a rough guide you need about 20 panels for a 6kW system.
If you're building a new home, take a look at our blog for more information on Building a Home Fit for Solar.
What time of day you use the majority of your energy:
As the sun in Perth rises in the east and sets in the west, the sun is at its strongest when it sits north in the sky at midday. Therefore, solar power systems can be installed on roofs facing anywhere from due east to due west, although we recommend north for best absolute production. This is a general rule however, as a well-designed system will match your home's electricity consumption pattern.
Eastern roof
If the morning is your busiest time of the day (think getting the kids ready for school, doing the washing and ironing, plus turning on the dishwasher) it's best to install panels on the eastern roof.
Western roof
If the afternoon is your peak energy usage time (everyone is home from work and school, the TV is on, as well as the computer and the air conditioner), you'll want to install your solar power system on your western roof.
Northern roof
If you use the most energy from mid-morning to the afternoon (stay at home parents, retirees, or those working from home) installing panels on the northern roof will give you the best return on your investment.
Whole roof
If your energy usage is spread evenly throughout the day, purchasing a solar system size of between 5-6.6kW will give you the ability to spread your panels across your roof.
Panel Efficiency
If you haven't got the viable amount of roof space you require for the size system you'd like, consider looking for panels that have higher efficiency ratings. They take up less space while producing the same amount (or sometimes more) power.
Infinite Energy is the exclusive provider of SunPower solar panels in Western Australia, which are renowned for having the highest efficiency ratings on the market. SunPower E-Series panels use their patented Maxeon cell technology,  which can produce 45% more power compared to conventional panels.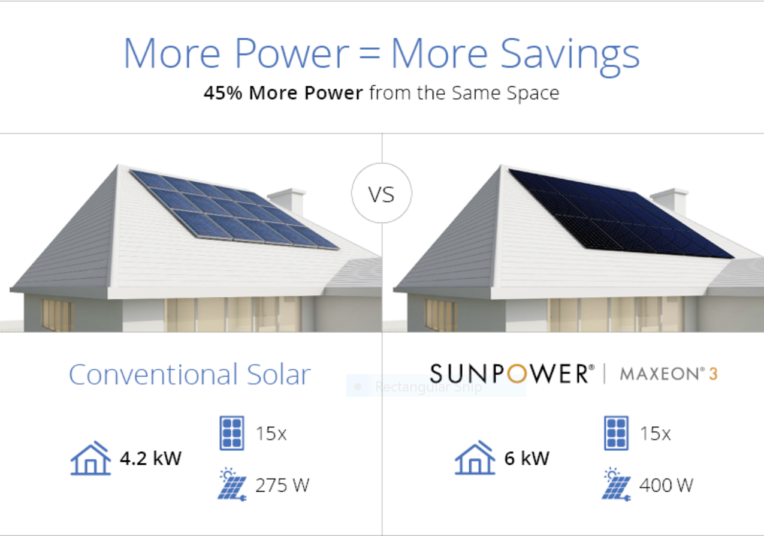 By choosing a higher efficiency panel, you can generate more power with less panels.
More information on the solar panels we offer can be found here.
Whether to expand in the future
If you're considering installing a pool or air-conditioner, starting to work from home, or welcoming a new member of the family, then your energy requirements will very likely increase over time. It's much easier and more cost effective to install a larger size solar system from the beginning, than it is to expand latter down the track.
For this reason, if you have the available roof space we recommend opting for a slightly larger system size than your current energy usage requirements. Doing so will ensure your purchase is future proofed for any changes in your circumstances.
Adding a battery
You may only need a 4kW system today, however, if later down the track you decide to purchase a battery for energy storage, you will need a larger system to generate enough energy to power your home and charge your battery. As mentioned previously, its much easier to install a larger system in one go, than to expand on it later.
Batteries will become more affordable and more efficient in the coming years, so the likelihood of investing in a battery will become very prevalent.
If you'd like more information about what size system to install, or would like to receive a free, no obligation quote, please contact us today.

back to blog