17 August 2017
Best Time to Use Solar Electricity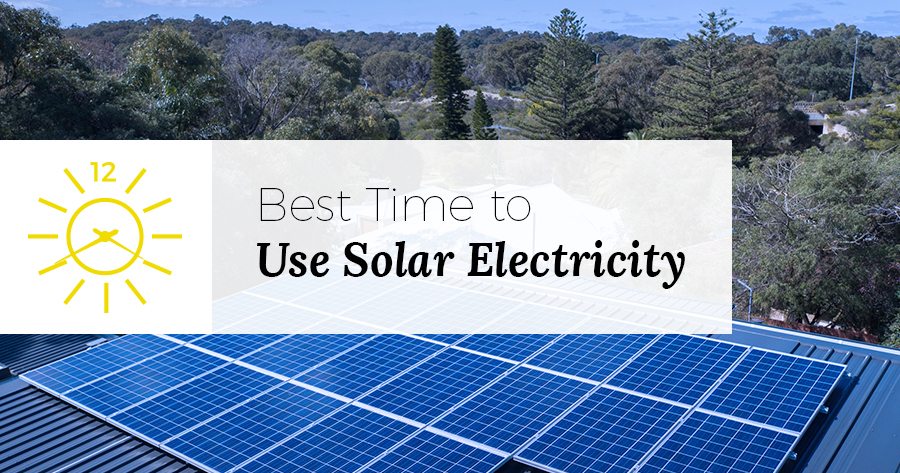 Australia is one of the best places in the world to install a solar system, thanks to great weather and a high percentage of clear, sunny days in both summer and winter.
While anytime during the day is a great time to use your solar generation, the ideal time will differ from home to home.
The most important factor that determines when it's right to use your solar energy will depend on where your solar PV system is installed on your roof.
Solar Panels on Eastern Roof


If your solar PV system is installed on your eastern roof, it makes sense to use the majority of your solar electricity in the morning.
To ensure you make the most of your solar electricity, we recommend using appliances like the dishwasher or washing machine as soon as you get up, or turning them on just before you head out the door for the day.
Solar Panels on Western Roof


If your system has been installed on your home's western roof, we recommend using your solar electricity in the afternoon.
Installing panels on a home's western roof is the perfect choice for those who either finish work early, or those with a large family who come home from school and use multiple appliances (tv, computer(s) and air conditioner) at once.
Solar Panels on Northern Roof


As the sun rises in the east and sets in the west, the sun is at its strongest when it sits north in the sky at midday.
That means if you have panels installed on your northern roof, the best time to utilise your solar electricity is anywhere from mid-morning to the afternoon. A north installation is perfect for stay at home parents or those who work from home.
Solar Panels on Whole Roof


If you have an even spread of solar panels across your whole roof, you're able to use your energy indiscriminately throughout the day.
A Note on Usage


Just because you've installed a solar system on your roof, doesn't mean you should try and use all your appliances all at once, just like you wouldn't before you had solar installed.
While above we recommend using your appliances at certain times of the day, you still need to be smart about your usage. For example, wait until your dishwasher has completed its cycle before turning on the washing machine.
If multiple appliances are run at the same time, your home's electricity usage may exceed the amount of power that your solar PV system is generating. This will force your home to purchase electricity from the grid, leading to additional costs for your home.
By staggering your usage and not overloading your electricity consumption, you'll be able to use more of your solar electricity, therefore offsetting and saving more.
We also recommend programming high usage appliances to turn on during the day when there's peak sunshine, for example scheduling a pool pump to switch on at 12 noon.
In the summer months, you may wish to set your air conditioner to turn on in the afternoon before you get home. This way it has a few hours to cool down your house before you return, as opposed to coming home and turning it on in the evening, wasting your solar PV system's generation.
Solar/Grid Monitoring


If you've invested in solar and grid monitoring, you can monitor your usage to see when your home is generating an excess or insufficient amount of solar electricity, and adjust your usage accordingly.
This will limit the amount of solar power you needlessly export or buy from the grid, saving you more money.
For a no obligation quote on solar for your home, call us on 1300 074 669, or click here.

back to blog