30 May 2019
Important Takings from ABC's 7.30 Report: Safety in Australia's Solar Industry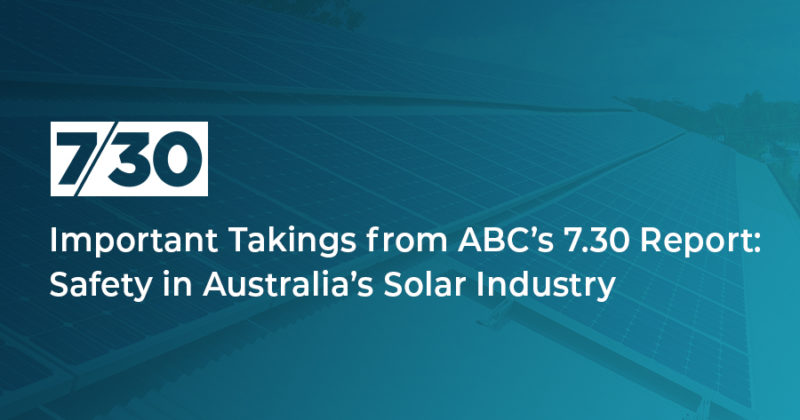 The ABC current affairs show, 7.30, aired a segment on the safety standards in the Australian solar industry on Monday 27th May. The program reported on the potentially tens of thousands of badly installed and unsafe solar systems on rooftops.
It's a concerning reality, but it's important to note that this has originated primarily from poor quality, cheap components or substandard installations and is not a reflection of every operator in the market.
In an industry that is largely pressured by consumer expectations for the lowest prices, many solar providers and manufacturers unfortunately make the decision to sell cheap products and cut installation corners to make some level of profit. Many of these companies are in it for a short term "cash grab" and have no intention of being around in the long term to deal with the fallout from their work. 
In an interview during the ABC report, Dr Michelle McCann from PV Lab Australia says, "Australian consumers are notorious, and known overseas, for caring a lot about price and not caring about quality, and when that happens you get the cheaper product. And the cheaper product is not the better-performing product."
What Dr McCann is essentially saying is you get what you pay for. Choosing to purchase a budget brand for your panels or your inverter, or a budget company to complete your install, increases the likelihood that you'll run into issues.
Our tip: If you're hoping this will be a one-time purchase that will last the next 20+ years, spend the extra time researching your options and don't let price be your one and only deciding factor when investing in a solar PV system.


Why choose Infinite Energy?
We are a Clean Energy Council Approved Solar Retailer and have been since 2015.
We have been in business for more than 10 years and installed more than 15,000 renewable energy systems across the country - including some of the largest rooftop installations on the entire Western Power network!
We encourage customers to do their own research to fully understand the details of the system they're getting, and the company installing it. We do this by offering extensive resources on our website, blog and social media pages to assist you.
Our installation team completes installations to the highest safety standards, reviewed regularly by our internal Quality Assurance Manager. Our QAM is responsible for managing the prequalification and onboarding of our installation teams, working closely with our installers to ensure they are meeting consistent quality and OH&S standards across our business.
Our consistent focus on safety is highlighted through our certification of OHS AS/NZS 4801:2001; an internationally recognised Occupational Health & Safety accreditation. We are also accredited for ISO 9001:2015 standard for the scope, design, quoting, project management, supply and installation of commercial solar PV systems.
Our focus is on providing quality components from world leading brands.
We back all our systems with a full 5 year "Whole of System" warranty, which is in addition to the product warranties provided by component manufacturers


While we hope the findings from the ABC's report don't deter you from installing solar altogether, we hope it does reinforce the importance of choosing a reputable retailer with high-quality systems and rigid safety standards.

back to blog