01 February 2021
What to Do if Your Solar Retailer Goes Out of Business and You Need to Make a Warranty Claim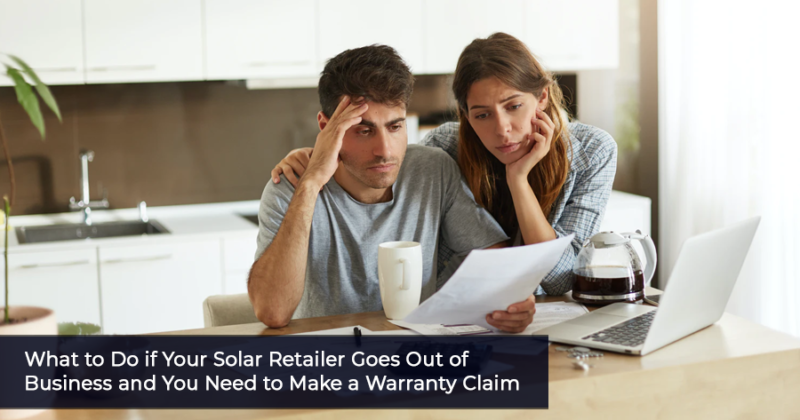 A high-quality, reliable solar system is a valuable asset that can offer a multitude of benefits. We believe in supplying quality components to ensure the efficiency and performance of our solar systems will continue to provide for our customers for years to come. Unfortunately, not all solar systems offer the same standards of quality, and this can have detrimental effects.
In the event of needing to make a warranty claim, you are relying on your solar retailer to provide support and a solution to your systems' issue. However, a poor-quality system often comes from a shonky solar retailer, who has skimped on quality to get the cheapest possible components. It is these retailers who are more likely to fail as a business and declare bankruptcy.
Unfortunately, many solar companies can go bankrupt and this means hundreds, if not thousands of customers are left without a company to turn to for support when their system incurs an issue. You can read more on why so many solar companies go bankrupt on our blog here.


Taking action 
So, what should you do if your solar company goes under and you need to make a warranty claim? Our Service Team Leader, Sean, has advised us on the best course of action you can take if you find yourself in this position:
If you have tried to contact your solar retailer on several occasions but aren't receiving any communication back, we recommend you check the status of the company by doing an ABN or business name search on the ASIC Connect website and at the ASIC Register of Insolvency Notices. This will confirm if the business is still in operation or not.


If the solar company is no longer around, are continuing to not respond to your contact attempts or are not trying to resolve your problem, you should contact the manufacturer of the product you are experiencing issues with. The manufacturer's contact details will be provided on the warranty documentation you received when your system was installed. 

From here they will be able to assist you on what to do next. If the retailer who is no longer in business used high-quality components, then it is likely that the manufacturer's warranty will cover the cost for new parts if you're still under warranty. However, in most cases labour is not covered.


If you are unable to contact the manufacturer, such as if they have failed to return calls or have gone into liquidation, you should lodge a complaint to your state-based Consumer Affairs or Fair Trading agency. The contact number for each state and territory is below:


ACT: Office of Regulatory Services, 02 6207 3000
NSW: Fair Trading, 13 32 20
NT: Consumer Affairs, 1800 019 319
QLD: Office of Fair Trading, 13 74 68
SA: Consumer and Business Services, 131 882
TAS: Consumer Affairs and Fair Trading, 1300 654 499
VIC: Consumer Affairs, 1300 558 181
WA: Consumer Protection: 1300 304 054
You can also contact the ACCC for further help and advice.


What if I can't get any help?

Unfortunately, you may not always be able to get a refund or replacement depending on the nature of your case. If this occurs but you still want to have the issue fixed, you should always choose a qualified installer or electrician to conduct the repairs. You can find Clean Energy Council Approved solar installers here.
In some cases, another solar retailer may be able to help you out if the brand of products used is the same brand they stock. This is completely at the discretion of the new solar company, and you will most likely need to pay for the costs of labour performed to fix your system. While this can sometimes be a costly exercise and not exactly the money-saving venture you thought you were entering, ensuring your system is working efficiently and correctly is important.


Tips for choosing a new solar company

In the event that your system has completely failed, and you want to install a new system with a different solar company, here are some tips and resources to help you to ensure the quality of your provider:
By following these tips, you can reduce your risk of choosing a solar company that could be at risk of going bankrupt. For more information, download our free eBook for all our tips on choosing a solar provider. If you would like to discuss your solar options with us, contact Infinite Energy today.

back to blog