09 March 2018
How Much Do Solar Panels Cost?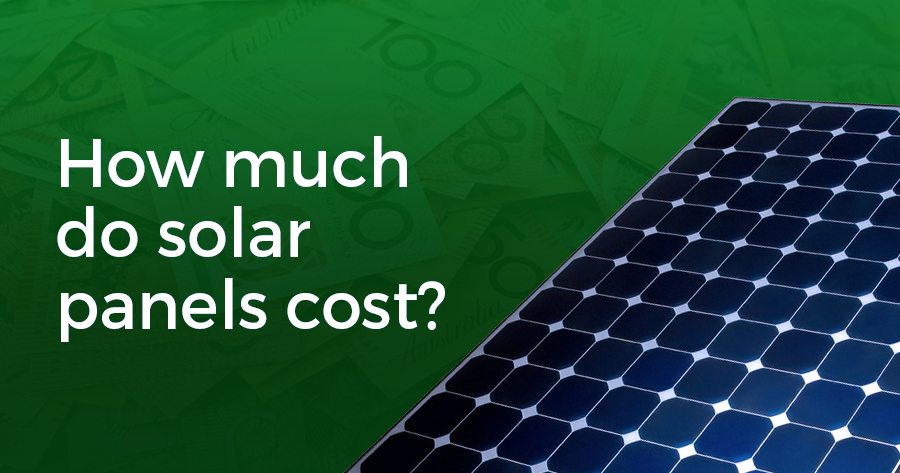 Solar Panel Price Trend


Since 2010, the price of installing solar PV systems has dropped significantly, in large part thanks to a significant reduction in solar panel costs.
In the last few years, prices for solar panels have fallen much faster and further than expected. The Chinese economy has played a major role in this price reduction, as huge subsidies by the government to hundreds of companies has caused hypercompetition, with companies drastically reducing prices to remain viable.
In October 2016, prices bottomed out at around 40 cents per watt and are not expected to drop any further.
The increased affordability of solar panels has seen Australia achieve the highest rate of household solar panel installations in the world.
This blog will explore the price of panels, and what you can expect to pay in different states around Australia.
The Price of Solar Panels


At 40 US cents per watt, 5kW of average panels should cost around $AUS2,500. However, a good quality 3kW system in Australia will cost between $5,000 – $8,000 due to differences in quality and the fact that panels only make up a partial amount of the total cost of your solar PV system.
Additional costs include:
1. Mounting System
The mounting system physically connects the solar panels to your roof. A crucial component of a solar array, your mounting system will be subjected to major environmental stresses such as hail and wind over the next 25 years.
As such, it's vital to invest in a high quality, corrosion resistant mounting system to ensure the durability of your solar PV system.
2. Balance of System
Often referred to as the Balance of System (BOS), the total cost of installing a solar PV system also includes electrical components like wires, cables, isolators, breakers, switches, and of course an inverter.
Lying at the heart of your solar PV system, an inverter converts the DC electricity your panels generate, into AC electricity the appliances in your home use. Playing such an important role in a solar setup, inverters often make up 50% of the total cost.
The additional cost of high quality BOS components ensures your new solar PV system works safely and efficiently.
3. Installation
It's a condition of most panel warranties that your panels are installed by a qualified electrician. Plus, you're only eligible to receive STCs if your panels are installed by a CEC approved electrician.
Paying for an experienced electrician also ensures your system performs safely for years to come.
Why Does Price Vary Between Solar Panels?


Due to differences in quality, prices can fluctuate greatly between solar panels of the same or similar wattage. In Australia, the price of a good quality system can range from the following: 
| | |
| --- | --- |
| Cost | $3,500 to $5,600 |
| Number of panels | 9-12 |
| Electricity generated per day | 13 units |
| | |
| --- | --- |
| Cost | $5,000 to $9,000 |
| Number of panels | 14-20 |
| Electricity generated per day | 22 units |
| | |
| --- | --- |
| Cost | $9,990 to 15,000 |
| Number of panels | 28-40 |
| Electricity generated per day | 44 units |
The variations in price are usually down to the quality of the panels and inverter you choose to install in your home.
However, as all prices quoted above assume the use of high quality panels, panels on the lower end of the scale are not of a subpar quality.
While both panels would have similar or identical wattage ratings and be of a high quality, the more expensive panel may include labour and transport costs in their warranties, utilise higher quality components, have lower degradation rates, and/or perform better in shaded areas.
If you do receive a quote from any company that's less than the minimum prices above, we recommend doing your own research into the brands, quality and warranties of the products making up that solar PV system, checking that the price includes all the required components, and looking at the reputation of the company installing that system to ensure these things meet your expectations.
Why Do Solar Panel Prices Differ From State to State?


The Renewable Energy Target is a Federal Government policy designed to ensure at least 33,000GWh of Australia's electricity comes from renewable sources by 2020.
Split into two parts, the Renewable Energy Target encompasses both the Large-scale Renewable Energy Target (LRET) and the Small-scale Renewable Energy Scheme (SRES). The LRET creates LGCs, while the SRES creates STCs, financial government incentives designed to encourage home and business owners to invest in renewable energy generation.
Essentially performing the same function, STCs are eligible for small-scale renewable energy generation installations under 100kW, while LGCs are eligible for large-scale renewable energy installations above 100kW.
System owners receive 1 STC for every MWh (megawatt hour) of electricity their system will generate until January 2031. Because STCs are traded and bought on the open market they can fluctuate in value, although they currently trade for around $37 each.
To calculate how many STCs you would receive for your system you can use the following:
System Size in kW x Zone Rating x Years Until 2031 = Number of STCs
Different parts of Australia have different Zone Ratings, based on the average solar irradiance in that area.
| | | |
| --- | --- | --- |
| Zone | Rating | Cities |
| 1 | 1.622 | Darwin, Rockhampton, Townsville |
| 2 | 1.536 | Alice Springs |
| 3 | 1.382 | Adelaide, Brisbane, Canberra, Perth, Sydney |
| 4 | 1.185 | Hobart, Melbourne |
Using the above calculation, a 5kW system purchased and installed in 2018 would receive the following approximate discounts:
| | |
| --- | --- |
| Zone | Discount |
| 1 | $4,000 |
| 2 | $3,800 |
| 3 | $3,400 |
| 4 | $2,900  |

These varying STC amounts are why identical systems can cost less (or more) in certain areas of Australia.
Infinite Energy stocks panels from Canadian Solar, WINAICO and SunPower. We have chosen these brands as they are reputable manufacturers, dedicated to producing panels of the highest quality and efficiency.
With over 10,000 installations to our name, Infinite Energy can help you decide which panel is right for your home or business. To request a no obligation callback, click here.

back to blog