01 April 2020
The Advantages of Going Solar Now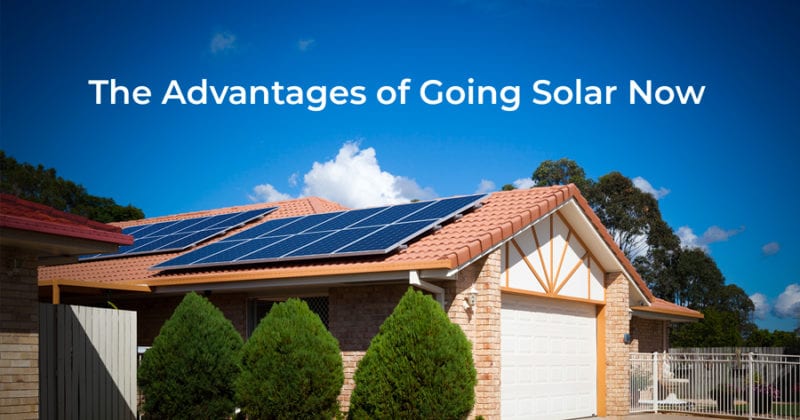 As Australians and the rest of the world do their best to adapt to the ongoing changes surrounding COVID-19, we're experiencing  an unprecedented amount of pressure in many facets of our life.
Suddenly having to adapt to an assortment of changes can cause underlying stress that we may not even realise we're experiencing. With the added financial uncertainty that many of us face, we need to be looking at ways we can increase our financial security should our circumstances change.  
It's been widely known  for a long time how solar and battery storage can provide several benefits to our everyday lives. Now more than ever, we need  security and something stable to help keep us thriving, and solar power can provide both. While many things are uncertain, the free energy supplied by the sun every day is something that won't be disappearing any time soon.
With the combination of lockdown measures put in place and many Australians now working from home, as well as the unfortunate number of those who have suddenly found themselves without a job, the time we spend at home has increased rapidly. For many of us, there was a large period of  the day that we were out of the house at work. Now that time is being spent at home, so our electricity consumption is increasing  during these hours.
Unfortunately, electricity bills are going to keep coming in. Given the situation many of us are in, it's highly likely we're going to see a substantial jump in the cost of our electricity bills for the foreseeable future. However, there is a solution.
Solar and battery storage can provide several benefits to help ease the financial pressures many of us are experiencing. Below we've provided a list of the some of the most significant benefits of solar and battery storage:  
Reducing energy use and relief from unaffordable electricity bills

Thankfully, solar can provide some much-needed relief in this area.

As solar is produced during the day when the sun is shining, the energy you draw from the grid to keep the lights on, use your computer and charge your laptop while working from home can now be supplied by the free energy of the sun. Rather than paying an exorbitant amount each bill to cover the cost of your increased time at home, you can have peace of mind knowing that with the correct solar system installed, almost all of your daytime power won't cost you a thing.

We've seen many of our customers' electricity bills reduce by a few hundred dollars since solar was installed at their home. In such an uncertain economic time, savings like that can go a long way.

On top of this, battery storage can be added to store excess energy and supply power to your home when the sun isn't shining.  With the combination of solar and battery storage, your home can become extremely self-sufficient, significantly reducing your reliance on the grid and reducing your electricity bills.


Financial security for the long-term
 
We don't know how long the effects of the Coronavirus are going to last, nor can we determine how long we will be working from home or told to stay in isolation. What we do know is that this increased time at home is going to cause our electricity bills to spike. On top of this, many Australians could be faced with reduced income over the next several months. If you can reduce your cost of electricity now by installing a solar system, you could successfully reduce  the financial burden for yourself and your family for not only the next 6 months, but the entire life of your system.


Good return on investment

You may be thinking it's all good and well to be saving with each bill, but how is it justified if you have to come up with a few thousand dollars to pay for the system? There aren't too many investments that can secure the same rate of return that solar can. For example, a good-quality 6.6kW system can cost you anywhere from about $5,200 (after government subsidies). A system like this can deliver 5-figure savings over the course of 10 years, and the payback periods are as low as just a few years. So yes, the upfront cost can seem alarming, but it can quickly be accounted for with the savings you receive.



Component prices may increase

Given that over 60% of the worlds solar panels are manufactured in China, and the dramatic slow-down in the workforce, the supply of solar panels and other components has reduced. This combined with the significant drop in the Australian dollar has caused wholesale prices for solar components to rise sharply. Because of our solid supplier relationships, Infinite Energy can maintain our current prices for some time, however this is unlikely to last. If you're considering installing solar, we encourage you to install as soon as you can before prices go up.  



Government subsidies are still available
 
There are a variety of state-based government subsidies available that you can claim to assist in installing solar or battery storage for your home. As part of the Renewable Energy Target, Australian residents can secure Small-scale Technology Certificates (STCs), which can be used to reduce the upfront cost of your system. For example, the STCs generated for a 5kW system could result in a discount of around $3,250 off the full, or 'true' cost of the system.

On top of this, there are several other rebates still in effect that can make installing solar for your home more accessible and financially easier. 

 
Support local jobs
 
By installing a solar system now, you'll be helping to support a local business and its employees through this uncertain time, all while accessing the many benefits of solar.
Why choose to install your system with Infinite Energy
Infinite Energy has been operating as one of the most successful solar providers in Australia for over 10 years. We are the largest retailer of solar energy systems in Western Australia and the fourth largest in Australia. Our offices expand across Perth, Sydney, Melbourne, Adelaide and Brisbane.
In 2019, we became part of Sumitomo Corporation. The acquisition has allowed us to expand our services and accelerate our growth in the solar industry. Being backed by such a large global corporation provides our customers with stability, and peace of mind that they have chosen a reputable company.
Unfortunately as we've seen in the past, more than 750 solar companies have gone out of business. This leaves many customers without support should their system fail or they need to claim a warranty. Thankfully, Infinite Energy has shown that we can last through the ups and downs of the solar industry and are here to support our customers for the long-term.
How Infinite Energy can help
To ensure that we are keeping to government guidelines and ensuring the safety of all our customers, Infinite Energy has adopted a touch-free experience. Customers can now take home consultants over Zoom, a free, simple to use online  tool that allows its users to chat over video in real-time. We will also continue to offer phone consults and will be available by email.
On the day of your installation, our approved CEC installers will only be busy up on your roof completing your install and won't need to go into your home. Appropriate social distancing measures are also taken at all installations.
Enquire with us today
Each month you hold off installing solar, you experience another month of being locked into high electricity bills, and this can quickly add up. Energy is one of the essential resources we need to survive. It may seem like a far stretch, but ensuring we have the available funds to continue to supply our homes with energy is critical in this time. By installing a good quality solar system in your home, you can reduce your electricity bills and invest in your electricity future for years to come.
If you would like to receive a quote for solar for your home or business, please contact us today. Our energy consultants can tailor a system to suit your individual needs and ensure you receive the system that's right for you.

back to blog